Brutalist aesthetics and deconstructed garments are just two examples of the overlap between techwear and avant garde fashion. Ev_W_ examines what these fashion genres have in common.
In 2015, the Acronym x Lunar Force 1 dropped. Years in the making, the design deconstructed and reconceptualized Nike's iconic Air Force 1 with the addition of a large off-center zipper running parallel to the laces and sticking up from the surface of the shoe. According to GQ, the "Frankenshoe," with its striking unfinished zipper, was at the time "divisive to the point of being heretical." More than five years on, Nike now trumpets it as "an absolute must-have shoe worldwide" as it has become a grail for sneakerheads.
Hugh's deconstructive approach to redesigning the Lunar Force 1 conjures avant garde aesthetics, popularized today by designers like Yohji Yamamoto, Ann Demeulemeester, Boris Bidjan Saberi and Rick Owens. The movement began in the 1990s with Rei Kawakubo of Comme des Garçons, who arguably introduced such asymmetry to fashion. In fact, many of the designs that shape techwear are rooted in her concepts of refashioned tailoring and blurred gender lines through volume, long lines, drapes and structure, and they have been in dialogue with the designs of other household names as avant garde took off in the 2010s. Jackets are buttoned in unusual ways, trench coats become cloaks; trouser legs are so wide and crotches so low they resemble skirts; color palettes are understated, usually monochrome, to play up the varying textures of the clothing.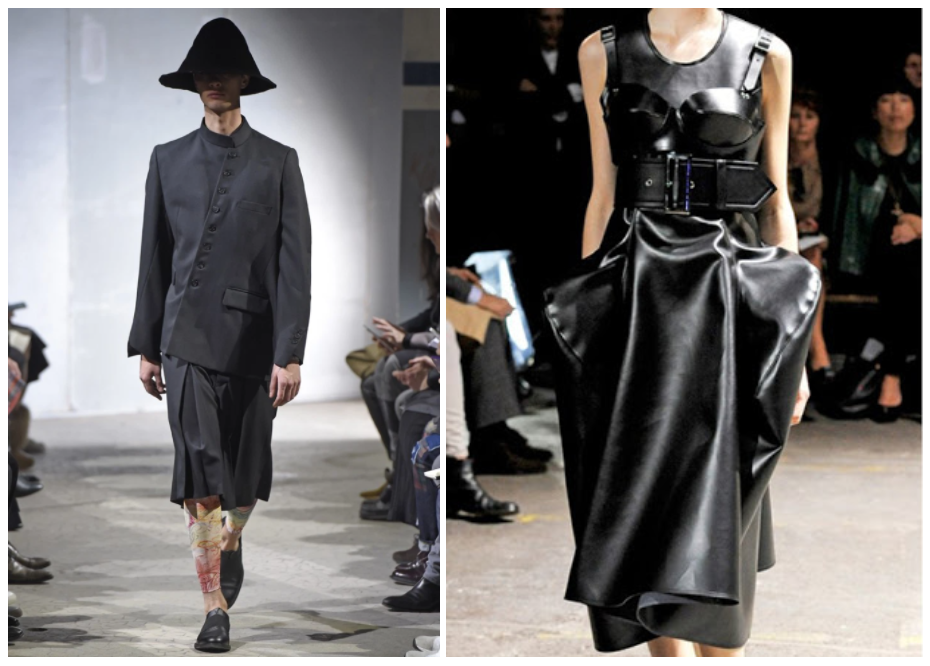 Nicknamed "the mother of destruction" for her deconstructionist approach to clothing, Kawakubo and her acolytes have forced fashion to reassess its fetishization of form by literally pulling garments apart and stitching them back together into grotesque shapes. In her radical reimagination of fashion aesthetics and philosophy, she not only laid the groundwork for today's avant garde fashion but also created a platform for techwear to respond to the crisis in mainstream fashion with the elevation of function. While gorpcore has continued the tradition of outdoor wear, brands like Acronym, Veilance and Enfin Levé have borrowed the aesthetic cues of avant garde and applied them to more technical fabrics like Schoeller Dryskin, Stotz Etaproof and other weatherproof materials that give their clothes not just a performance edge but also a distinctive visual edge.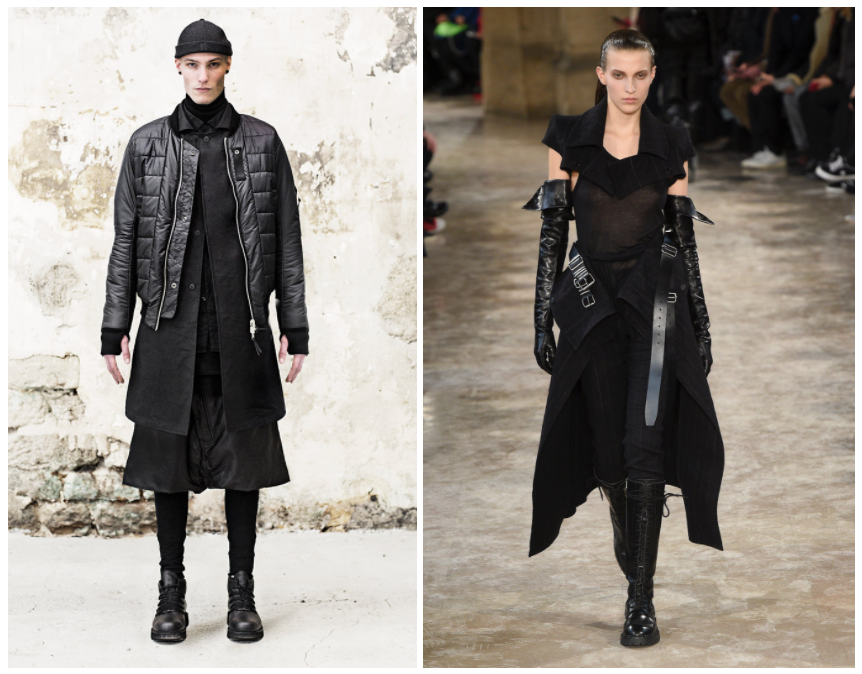 Rei Kawakubo's Mark on Fashion
Rei Kawakubo came to notoriety for rejecting the idealized female body image of the 1980s with her infamous 1997 show, "Body Meets Dress, Dress Meets Body," popularly known as "Lumps and Bumps." The collection earned the nickname for its parody of extra padding, placed so as to make the models look deformed. As she described the concept, Kawakubo "realized that the clothes could be the body and the body could be the clothes"; women's fashion had hitherto been about packaging women's bodies in an ideal form, and she took it to a new level by creating with her clothes a new kind of body for the wearer that was anything but ideal.
Kawakubo didn't stop at silhouettes when it came to reimagining form in fashion, as she drew on her obsession with pattern cutting to deconstruct traditional tailoring and reimagine it. Following "Lumps and Bumps," she pulled apart garments and basted the pieces onto tulle, laying bare the anatomy of clothing. When she reconstructed it, she would incorporate her signature asymmetry through mismatched zippers, twisted seams and "misaligned" closures, as well as other decorative though understated flourishes.
Prior to Kawakubo, high fashion had experimented with asymmetry via the odd diagonal lapel or bias cut slip, but she took it to a new level. My favorite dress by her label doesn't hang straight on a hanger, and looking at it flat, one would assume the model had shoulders of dramatically different heights. Yet somehow, it wraps itself around my body and feels like a hug without being constricting as one might imagine from its appearance on the hanger.
Kawakubo's clothing may be jarring to the eye with austere shapes and heavy use of black (which she is credited with "inventing"), but it is soft, fluid and warm to the skin. Though Kawakubo has been adamant that she is not a feminist and has not voiced any interest in equipping women for function or activity, Comme des Garçons is known for brutalist menswear-inspired pieces that deemphasize and protect the body from both the gaze of observers and the elements through its woolen materials. As a reflection of this apparent mission to "bring discomfort to the observer and comfort to the wearer," much of the Comme des Garcons clothing I have picked up over the years feels built to protect the wearer and cloak them from observers.
Techwear Takes Up the Mantle
This sentiment has been echoed by Hugh in designing for Acronym and became a key part of the ethos of Veilance. Whether consciously or not, the community is carrying forward her rebellion against mainstream fashion as in countering its emphasis on form with one on function, so it is unsurprising it has incorporated some of avant garde's aesthetic elements.
Both avant garde and techwear looks are identifiable through head-to-toe completeness, brutalist structure, varied textures, and monochrome. There is an entire spectrum of black driven by a material's interaction with light and dye. Synthetics can be lighter and shinier than the basic black of wool, but they can also be so dark as to make black wool look grey, as in the case of Enfin Leve's use of coldblack-treated fabrics. These properties work in tandem with knit design and finishes, which can make garments look coarse or shiny. Protective layers as well as strategic cutouts are hallmarks of both looks. Though avant garde has remained more artistic than functional, the similarities in aesthetic lend these styles to mixing and matching in fun, creative ways.
There have been a number of collaborations between avant garde designers and athletic wear brands, which have birthed many popular items in the techwear community. Of course Nike ACG and Comme des Garçons have collaborated: The resulting Mowabb was my first "true techwear" purchase and one of the most comfortable pairs of shoes I have ever owned. My top collaboration pick has been Y-3, Yohji Yamamoto's collaboration with Adidas, because to my eye, his clean design and execution are second to none. As a woman with hips, cargo pants are tricky to pull off, but his wide-cut high-waisted version makes them flattering on my body.
Salomon's collaboration with Boris Bidjan Saberi is one of the most highly regarded collaborations between performance wear and high-fashion. Their Bamba shoes are perennial favorites for their comfort, grip and light weight, and I will confess to being obsessed since I first laid eyes on them. Earlier today, the performance wear branded dropped a new collaboration, this time with the Mother of Destruction herself, who reportedly has been wearing its shoes for "many years."

Some brands are already mining the middle ground between avant garde and techwear. Rosen was born "for love of avant garde" and has been tailoring technical materials like rip-stop nylon into clothing that mixes feminine drape and masculine structure, much in the style of Comme des Garçons. Enfin Levé leverages Stotz Etaproof cotton and dyes as an impression of the distressed fabric seen in avant garde clothing like Boris Bidjan Saberi; though not strictly techwear, the brand even creates accompanying leather and silver accessories like you'd see from avant garde retailers like Orimono and Silenzioh, underlining the connection between the styles.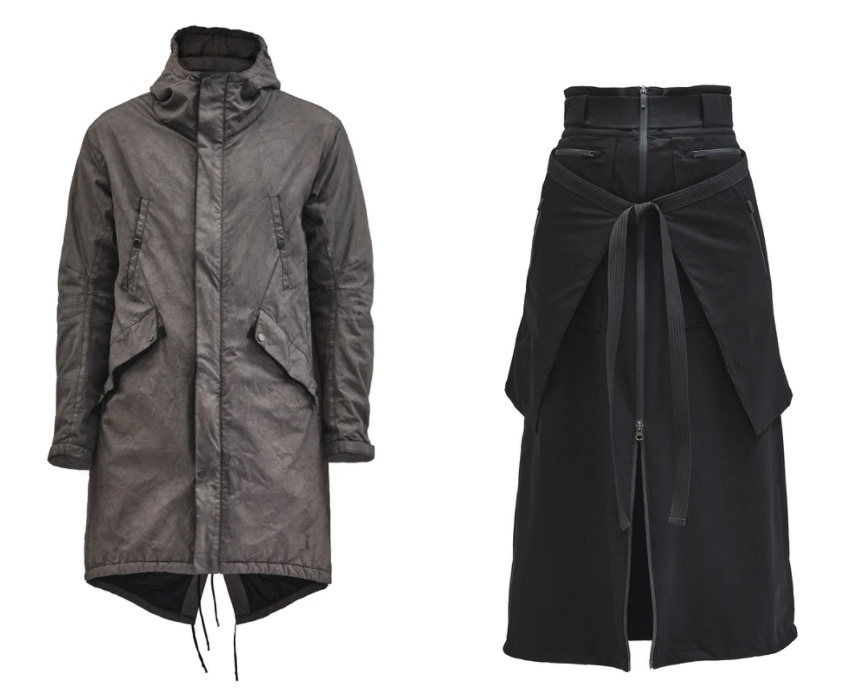 While avant garde gained traction as a reaction to fashion for women, techwear has largely skipped over this demographic. Much ink has been spilled over the hardly serious option of unisex, and supportive crop tops hardly "cover" women's interests. Kawakubo's design was a masterclass in engineering femininity without sex appeal, leaning on high waists, long limbs and voluminous swingy skirts and cloaks; such design is still largely missing from much techwear.
Veilance, Acronym and Riot Division have taken steps to include women by producing limited ranges for them or styling unisex pieces on female models; but the shapes, originally designed for men, can be rather wide and thus cost the female buyer extra consideration and adaptation — a bit of a gamble for the retail (and even resale) prices. Rosen's approach is more interesting: The brand acknowledges physical differences between men and women and aims to create genderless clothing by blending feminine- and masculine-coded styles inspired by Eastern patterns. Enfin Levé has arguably been the pioneer for women's techwear by creating not just women's versions of their popular items for men but also a number of traditionally feminine garments like skirts and dresses.
Because techwear and avant garde are otherwise very complementary in terms of aesthetic and color palette, pairing techwear pieces with feminine avant garde ones can be a way to make a standard techwear fit more feminine while the industry catches up. Creating a waist by adding a belt is my favorite trick; scarves and other accessories can soften a sharp or boxy look, as does pairing drapey pieces with structured ones. Secondhand marketplaces like Vestiaire Collective, DePop, eBay and Poshmark are great places to find items to mix it up.
Avant garde and techwear are as distinctive in today's fashion landscape as fantasy and sci-fi are in literature. They sketch otherworldly narratives of some other place near or far in time and space. Major techwear brands have kept up a dialogue with pivotal cyberpunk author William Gibson, who was involved in the conceptualization of Veilance and has become buddies with Errolson Hugh. In his words, "the stuff's atemporal, or from its own timeline. Planet Acronym."
When Rei Kawakubo razed mainstream fashion, she invited us all to reimagine the future; avant garde and techwear have come to represent visions of what our world could look like, and what it is already becoming. While avant garde might represent an apocalyptic future with its destructive and brutalized aesthetic, techwear examines the component parts for opportunities to upgrade and build a stronger suit. Far from being cosplay, avant garde and techwear reflect responses to our evolving collective existence.