Enfin Levé is a staple in techwear circles, instantly recognizable for its avant-garde takes on must-have pieces like weather-proof jackets and flourishes applied to typical technical fabrics like Dryskin and Etaproof Stotz. Derided by some as "poor man's Acronym," the brand has recently distinguished itself by providing a full range of women's wear, with items that aren't just adapted to the female body as in the case of the popular Ameztu cargo pants, but designed specifically for women. 
To me personally, this development seemed like a godsend. When I first discovered techwear, my closet comprised a mix of Lululemon basics and thrifted pieces by the likes of Comme des Garcons, Ann Demeulemeester and Rick Owens: the former laid a foundation of comfort and ease of movement in my outfits, and the latter dressed them up to be visually interesting or even professionally appropriate. While I enjoyed the creative exercise of putting outfits together from a patchwork of designers, I lamented the dearth of brands mining the stylistic overlap of techwear and avant garde, let alone addressing women's wear. So, when Enfin Levé launched its women's line in October 2020, I was determined to test the waters.
I first got to inspect the brand's quality when my boyfriend ordered a pair of Ameztus, and I was immediately impressed by the engineering. A lot of thought went into the construction, from the articulation around the knees to the folded-down pockets at the hip and the seams and draping around the legs. The Schoeller Dryskin material, originally designed for athletes, turned out to be the material I didn't know I was wishing for from Lululemon: it's stretchy but retains its structure, lightweight and breathable but durable, and, of course, water resistant — that is, drink-spill-proof. (I have also since noticed it seems to repel cat hair, a major bonus in my case.) The price tag for such pants might be at the upper limit of reasonable for many of us, but it was clear to me from the design and material that the quality lives up to it.
But what about a skirt? Not nearly as much engineering goes into that, right? While the fit and movement of the legs might not be a consideration here, the fit around the waist, hips and butt pose challenges for women, to say nothing of addressing coverage, shape and movement. As such, I had been searching for a miniskirt for years that was comfortable, stylistically versatile and not too revealing. Some were available from Nike's Techpack line and Lululemon, but I found them to be too plain or basic in design — they looked casual, like unabashed athleticwear. So when Enfin Levé debuted the Bildu skirt, one that was techwear-inspired but sleek enough to wear to my office, it seemed like just the ticket for me.
Enter the Bildu Cargo Skirt
The Bildu skirt has a traditional trapezoidal silhouette, with a narrower waist and slightly flared hem, but with some clever details that are both aesthetically interesting and useful. I was accustomed to seeing wrap skirts where layering design was purely ornamental (the top layer is fixed in place and the skirt closes with a zipper at the back), but in this case, Enfin Levé uses it to neatly tackle the waist-hips-butt fit challenge.
The wrap design, supported by the hook belt, adapts to anyone's shape — a blessing for those of us with nonstandard waist to hip ratios. In my wider-hipped case, the skirt flares in a flattering way and sits snugly but flexibly around my waist. On a narrower frame, the skirt might not flare as much but the belt would help define the waist and play up the curve of the hip. Overall, it fits true to waist size, with adaptability around the hips. Because of that adaptability, custom sizing might be less helpful here, but you can always email Enfin Levé for advice if you're unsure.
While the wrap is helpful for ease of movement, it can be a bit revealing as the layers can separate. Some kind of snap to hold them in place might make sense, but equally it could undermine the adaptability of the fit. The length of the skirt is listed on the Enfin Levé page, and when I was doing my due diligence, I didn't think about how it might effectively be shorter since the layers don't stay together; at 174 cm tall, I wish I had asked for a few extra centimeters in length. Fortunately it's not scandalously short — it just means I'll wear spandex shorts underneath in the summer.
On the waist, the skirt stays in place with a hidden snap closure and tucks along the back waist that help mold the garment to one's shape. The flexibility of the Dryskin helps with this, but with the double layer, it isn't so clingy as to be tight or revealing. Other fabric choices are also available on request; in retrospect I might have preferred the merino Dryskin, as it's less stretchy and more structured, but the regular version seems like the better choice for a year-round piece.
Techwear fabrics can be tricky to pair with natural ones, as the former tend to reflect light and look shiny while the latter don't. However, Schoeller Dryskin is given a trademarked "coldblack" treatment to reduce heat absorption, making the material a very deep shade of black that doesn't shine. This makes it easier to incorporate Dryskin into outfits with matte fabrics like wool knits or cotton blends, though the smoothness of it necessitates finer weaves to match textures.
On to the details: Though the bildu skirt has become a staple for me, it is by no means a "basic" miniskirt. It has the archetypical techwear cargo pocket, with a snapdown closure and drop pocket behind it: My cards and keys go in the cargo pocket, phone goes in the drop pocket. Personally, I don't need more pockets than this, and I appreciate Enfin Levé didn't go overboard and compromise the sleek lines of the skirt. There's already a fair amount going on with the asymmetrical overlay of the wrap: the flap of the large pocket picks up on the overlapping layers of the whole garment and appears slanted, complementing the mismatched overlap of the skirt.
Rather than the popular fidlock buckle, this skirt is fastened with a more gorpcore-style hook. The hook takes more effort to undo, as one might want in a place that is frequently jostled and vulnerable to public embarrassment; visually, it's more subtle than the fidlock and doesn't compete with the pocket as the focus of the garment. The wrap around and long tie gives nice continuity and room to adjust the sizing and shape — a practical but feminine detail.
But is a miniskirt "techwear"?
Miniskirts might not be the most obvious choice of techwear, given they tend to limit movement by just threatening a reveal, and Enfin Levé's bildu skirt is no exception. The Schoeller Dryskin might not help either, as it is so comfortable and lightweight it's easy to forget about it on the body; but by virtue of these same qualities, the skirt is quite easy to layer over spandex shorts or leggings without the ensemble feeling or looking bulky. The material is structured enough to visually stand on its own but thin enough to adapt to what's underneath, both body and additional layers; the wrap style calls to mind a sort of belt or apron when worn over leggings, though stockings are generally enough for me (and they keep it looking like a skirt).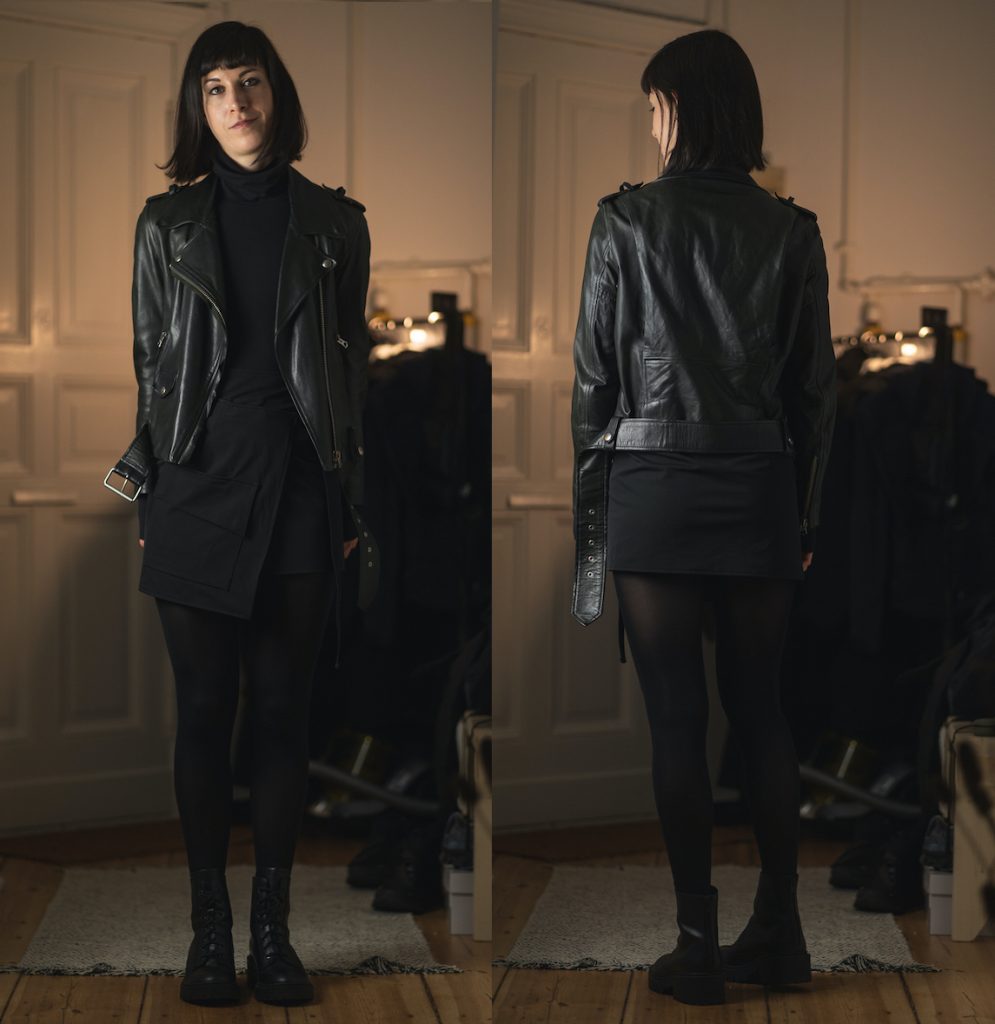 There may never be a perfect standalone miniskirt given the design's intrinsic limitations, but Enfin Levé's bildu skirt is exceptionally versatile in its accommodation of not just diverse body types but also extra coverage, without sacrificing aesthetic or feel. The style and promised quality of Enfin Levé was enough for me to take the plunge with this first item from the brand, though I was wary that "just a skirt" wouldn't be worth the price, that it would be impractical, and/or that it would fit strangely as clothing designed for men and adapted for women tends to do. Having had the bildu skirt for a couple months now, I have grown to appreciate the design and execution in everyday home-office life and versatility in terms of style and season.
The renowned scifi author William Gibson hit the nail on the head in describing this kind of appreciation, in his case for Acronym: "I'll sometimes wear something of [lead designer] Errolson's for a long time without realizing why some little detail is exactly the way it is. Then I'll get it. It's like getting a joke, but it's about function." Capturing such subtlety, as Enfin Levé has done with the bildu skirt, is what distinguishes a great techwear brand.