The Fusion Pants are an impressive first release from new German brand Nexural: slim, stretchy and weather resistant Dryskin.
Shoebertt is a man who knows how to dress. I first came across him on the r/techwearclothing subreddit, where he would post fit pics decked out in ACG, Arc'teryx, Veilance and Enfin Levé, always with a keen eye for proportions and calm palettes, and a knack for toeing the line between modern menswear and tech. When he told me he had started his own clothing brand this winter, I was stoked, and when he offered to send me a pair of pants to try, I jumped on the opportunity.
His new brand is called Nexural, and the premier collection calls to mind competitors like Outlier and Seagale. It has a similar firm dedication to premium functional materials and clean, modern cuts – highly wearable and sneakily high-tech.
The debut collection consists of the Fusion Pants and three T-shirts in different merino blends. I've tried two of the tees, and they are exceedingly comfortable, with ultra-fine merino fibers and well-considered blends for different types of performance. But for this review I will focus on the pants.
Dryskin power
Nexural has tapped Schoeller, one of the world's leading textile innovators and manufacturers, for a 250 gsm Dryskin fabric. Dryskin is one of the signature techwear fabrics, used extensively by Acronym and Enfin Levé, and previously also by Outlier. Schoeller initially developed it for outdoor sports, but its comfort, drape and look makes it a great fit for functional fashion.
There's a reason why Dryskin is so popular. It's a two-face fabric, with a weather-resistant exterior and a soft, moisture-wicking interior. It's lightweight, stretchy, breathable, durable, it drapes nicely and holds color well. In this case it also comes with a best in class DWR treatment: Schoeller's Nanosphere.
Schoeller likes to talk up how Nanosphere mimics nature and the properties of dirt- and water-repellent leaves. The treatment creates an uneven surface with protrusions on the nanometer scale, making water bead into drops and run off. Don't let the talk of "natural" DWR and comparisons with leaves fool you, though. In the end, this water repellency is accomplished using C6 fluorochemicals. It's dirty stuff, but it certainly gets the job done.
Fusion vs Futuredarts
The closest cousins to the Fusion Pants in my wardrobe are my Outlier Futuredarts, which I have reviewed before. Of these two, I prefer the Fusion Pants, which is high praise for a new brand.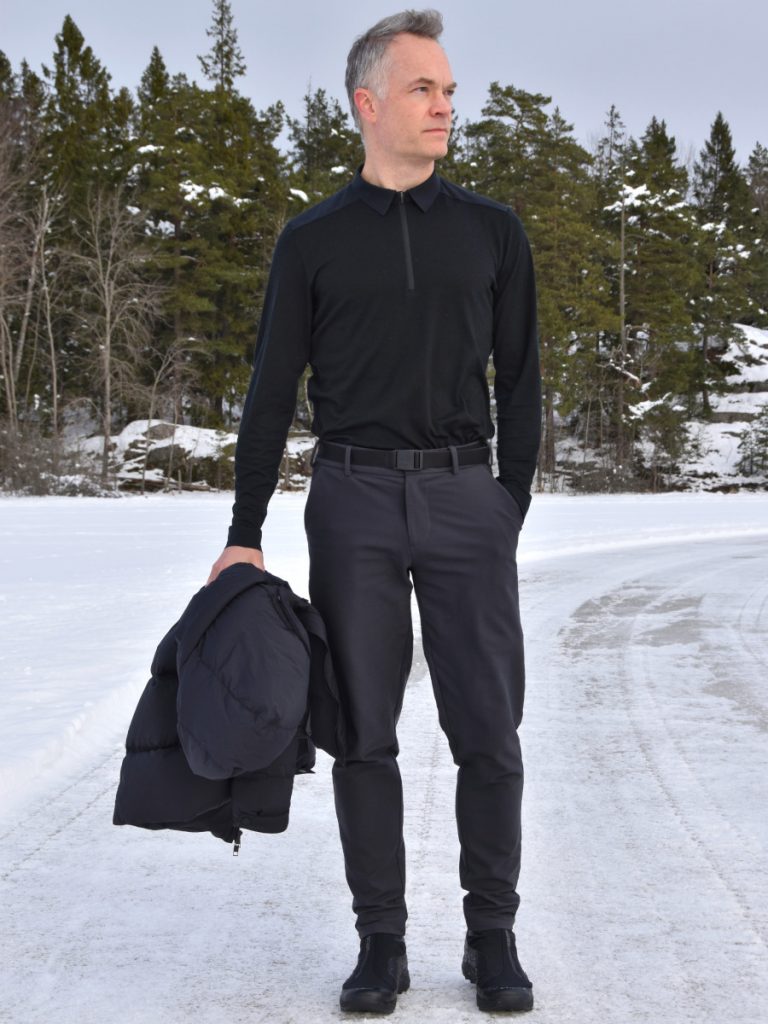 The similarities consist of both pants being lightweight, stretchy synthetic pants with a comfortably roomy top block – without being anywhere near wide – and a severe taper toward the bottom of the legs where the stretchy fabric hugs my calves.
Where the Fusion pants use Dryskin, the Futuredarts use a fabric Outlier calls F. Cloth. It's another nice synthetic material that offers slightly less protection against the weather, and a little less stretch.
Dryskin blocks wind better than F. Cloth, and the Nanosphere DWR is superior to Outlier's. On the other hand, the Futuredarts are very comfortable summer pants, and I haven't yet had a chance to try the Fusion pants in warm weather. Dryskin in general does just fine in warmth, but the performance varies with fabric weight.
Deep pocket supremacy
Outlier's Futuredarts have the edge when it comes to finishing. From the first time I put them on I got the the feeling that every cut and stitch has been carefully considered. Nexural's pants are not at that level – yet. The side seams in particular look a bit crude, and the back pockets are outlined by stitching that detracts from the clean, simple form. I even had the bad luck of getting one back pocket that's not finished properly, leaving a small hole in the pocket corner.
The front pockets, on the other hand, is a major win for the Fusion pants. This is the biggest shortcoming of the Futuredarts as the pockets are too shallow to securely hold a phone when you sit down. In 2021, making a pant that lacks a functional phone pocket is on par with making a pant that lacks leg openings. It's failing at the basics.
The Fusion pants, too, lack a dedicated phone pocket. But their front pockets are very deep. They hold your phone securely, although not beautifully. With the light, stretchy fabric, a phone gives you a pronounced rectangular bulge on your thigh. It can also be finicky to dig out of your pocket when sitting down; they're that deep.
My size 30 waist pants fit me just as I expect them to. Two lengths are available for the Fusion Pants: 32 and 34. Mine are 32, and at a 103 cm outseam they are longer than most pants I've picked up recently. In a time of cropped pants, I love it. And even if you're shorter than my 180 cm you chouldn't have much of an issue. The pants are easy to cuff – or hem should you prefer that – but the fabric stacks beautifully against your shoes, so wearing at full length looks neat.
Three season aesthetics
Feature-wise these pants are pretty bare-bones. There is an all-important crotch gusset to make sure the pants don't bust at the seams if the stretch inspires you to do some yoga. There is no knee articulation however, which would be comfy when sitting down, but with the stretchy fabric I haven't really missed it during my weeks with the pants. Whether I wear them indoors, or outside with a base layer underneath, they are comfy and I don't feel like they restrict my movement. This is a pair of pants I'm just as happy wearing for lounging, in an office environment, or for a walk in the snow.
While these pants work well over a pair of long johns in cold weather, the slim, tapered silhouette is hard to style well in winter time as I typically wear heavier shoes and bulkier jackets. It looks great with just a shirt or a light jacket, but as you start layering up, these pants can make your bottom half look disproportionately thin. So, even though I have been quite pleased with the pants in -8°C, the slim look is a bit incongruent in the coldest season.
For a first release, this is an excellent option for anyone looking for clean, modern pants in a fabric renowned for functionality. €190 is a fair price, and from what I've heard they will soon come in a gray/brown color too.
Form: 7/10
Nice slim, tapered fit, excellent length. The silhouette is perfect to wear with a shirt, harder to style with bulky outerwear. Not quite perfect finishing.
Function: 9/10
Dryskin is comfortable and versatile. Deep pockets. The combination of stretch, weather resistance and elegant cut works from office to trail.