How to keep it black, breezy and non-smelly through summer? Silver chloride, Airism and Coldblack are just some of the technologies designed to beat the heat.
Flexing your techwear game through the summer months can be rough. While other seasons call for 3L Gore-Tex, synthetic insulation and deliberate layering, warm summer punishes excessive clothing. Most of the time, the most functional option would be shedding your clothes like a horse sheds its winter hair. After all, human skin has unsurpassed water resistance/breathability.
Summerwear calls for some basic features:
Lightness
Breathability
UV protection
Freedom of movement
Odor control
There are some natural materials that do well on many of these fronts. Linen, for instance, is very airy. It is typically loosely woven, allowing air to flow right through so that the breeze gets in and your body heat gets out. Its slight stiffness makes linen less likely to cling to your body than cotton. The fabric will soak up sweat as it touches you, and as it billows out from your body it dries up quickly. But linen wrinkles easy. It does not stretch, so unless you have a loose cut it will restrict your movement. There's a reason they don't make linen underwear: it chafes. Also, linen is not very durable.
Regardless of what you might read on normie fashion blogs, cotton is generally terrible in hot weather. But not all cotton is equal. Some light, high-quality cotton varieties are quite breezy. Seersucker and chambray are cotton fabrics that borrow the characteristics of stiffer materials to reduce clinginess. But cotton should preferably be mixed with other materials for summer use, to stave off wrinkling and enhance moisture wicking. As should silk, which easily gets clammy on its own but is great mixed with linen – at least my trusty Whyred silk/linen shorts are incredibly comfortable.
Merino wool is my favorite natural textile, all year round. There are a lot of specialized brands that make nice socks, underwear and baselayers in merino for summer as well as winter use. Many of the big general fashion brands offer sweaters in merino. But one brand to pay special attention to is Icebreaker from New Zealand, which makes a range of technical clothing from boxer briefs to shell jackets in merino, used on its own or mixed with other materials. Icebreaker keeps their designs clean, simple, and mostly logo free.
Just make sure your merino is mulesing free and go crazy. This is a natural material that wicks moisture well, regulates temperature efficiently and keeps its termal properties even when wet. It does not wrinkle easy, stretches well and has a crisp, lustrous look to it. Merino is even antimicrobial, which means your garments will not stink even after hiking in heat for several days. The cons? Some people find it too itchy. It likes to cling to your body, so it is not the most breezy fabric for summer use. While it does not stink it can smell of wool. It requires special detergent when washing, plus some pampering post-wash so it retains its form and size. And moths love to feast on it. But as with cotton, you can mix it up with polyester for the sake of durability.
So, if these natural materials are already pretty good, what do we need summer techwear for?
Well, the same reason we need techwear whenever: to improve on tired old legacy clothing and to look phenomenal. We should of course acknowledge that the techwear aesthetic brings its own challenges to summer wear. The affinity for layering is one, but perhaps the most fundamental one is the love of black. Black fabrics are black because they are good at absorbing light instead of reflecting it. Unfortunately, they also absorb heat, which becomes a problem in the summer sun.
The Swiss company Schoeller Textiles, which provides fabrics for brands like Acronym, Enfin Levé, Vaude, Descente, Peak Performance and many, many others, offer a treatment called Coldblack, that can be applied to any fabric. It not only guarantees an ultraviolet protection factor (UPF) of at least 30 to any fabric it is applied to, but also reduces heat absorption. Laboratory tests have shown that the skin temperature of a body wearing a black shirt treated with Coldblack can be 5°C cooler than with a regular black shirt. I have not tested Coldblack fabrics myself, but these specs certainly make me want to. Especially since, according to Schoeller, this treatment somehow does not affect the look and feel of the fabrics it is applied to.
Even though nylon and polyester are not inherently breathable materials, strong synthetic fibers lend themselves well to weaving durable mesh and eyelet fabrics that guarantee plentiful air flow, moisture wicking and cooling properties. One of my best buys this summer was a shirt I found on Grailed, from Stone Island Shadow Project, the Stone Island sublabel launched with Acronym's Errolson Hugh as head designer. The shirt is black, of course, and has a nice, exclusive mercerized cotton front. But the back is a nylon jacquard mesh that somehow looks opaque even though it makes sure moisture evaporates efficiently, keeping me cool and ventilated. These days practically all activewear – worn by everyone from reluctant joggers to Diamond League athletes – are synthetic. In summer a cheap and effective version of this technology can be found in the Uniqlo Airism Mesh line, where you will find a range of next-to-skin garments that keep you nicely ventilated. Bascially these synthetic fabrics have just one functional shortcoming during summer months: Unless they are treated with antimicrobial tech they tend to get smelly. Quickly.
Human sweat in itself does not stink. The smell happens as sweat meets the bacteria on our skin and helps those bacteria multiply, producing unpleasant odor. This odor is then transferred to our clothes. Synthetic fabrics are typically hydrophobic, which means they do not retain water. But the body oils that carry odor is another matter. Those will cling on to the synthetic fibers, and can be hard to wash out.
There are treatments that can remedy this situation to some extent. Several brands use silver particles, which are anti-microbial, and the most popular treatment comes from a Swedish company called Polygiene. This treatment uses silver chloride recycled from electronics waste. (Such tech.) The amount of silver is small – two silver rings worth is sufficient for 5,000 garments – and proven to be highly effective. It is currently used by tech savvy outdoors and activewear brands like Adidas, Arc'teryx, Patagonia, The North Face, Goldwin, Salomon, Polartec and Black Diamond. I am in fact writing this article in a Polygiene-treated Patagonia t-shirt which I have used for five days in summer heat without a wash. It does not stink. Really. My wife would let me know.
Merino helps with smell too, as the wool is naturally antimicrobial. My Veilance Cevian t-shirt goes similarly long between washes since it keeps me cool with a breezy jacquard mesh fabric woven with 46% merino wool and 54% polyester. This mix gives me the anti-odor and moisture wicking properties of merino, and the strength of polyester. Best of both worlds, no silver particles required.
But the most magical piece in my summer wardrobe is hands down the Demlo Jacket from Veilance. As I browsed the racks at Nitty Gritty in Stockholm a few months ago, I was not contemplating buying another windbreaker. But there was something about the minimalist, utterly functional cut and ethereal thinness. (I'm struggling to find a metaphor here, but razor or paper thin does not convey the feel of the jacket which feels thinner than either.)
I tried it on and I instantly knew my life from then on would feel slightly diminished if I denied my body this sublime garment.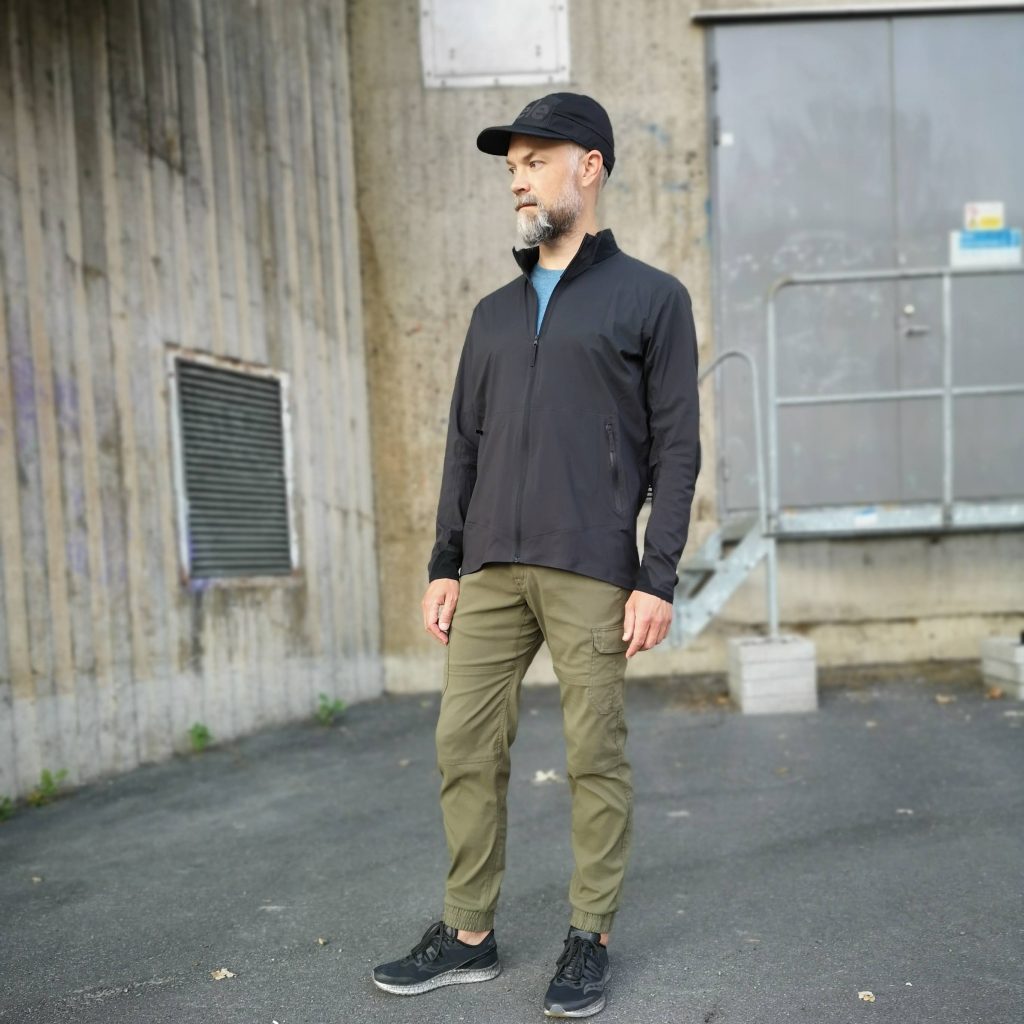 At 125 grams the Demlo is not the lightest windbreaker you can find. A jacket like the Montbell Tachyon weighs in at only 75. But the Demlo's combination of fit and feel is unsurpassed. The fabric has some actual structure, even being so light, with a nice slim cut and standing collar, and the cuffs and collar have stretchy woven material for a better feel. While the Tachyon fabric is 7 denier windstopper the Demlo is a crisp 30 denier nylon ripstop, equal to the Squamish hoody from mother company Arc'teryx.
The Demlo is that beautiful in-between compromise that is not best in class in any measurable category. It is wonderfully light, but not the lightest windbreaker. It protects you from a chilly breeze when night comes, but there are plenty of warmer jackets. It beads water beautifully and has the durable water repellency (DWR) to keep you dry through a summer drizzle, but is no substitute for a proper rain coat. The Demlo just hits a sweet spot for summer techwear with the cool minimalist looks and functionality suited to the real, actual summer conditions in Stockholm where I reside. It is a superbly versatile piece for whenever the summer weather is not swelteringly dry and hot.
In the end, a great technical piece, summer or winter, is always about compromise, finding the sweet spot for you and your particular needs, balancing looks, function, price and sustainability.
Please let us know about your favorite summer techwear pieces in the comments!