Techwear and athleisure are fashion siblings separated at birth. With the Lab sublabel, Lululemon bridges the gap between the two, writes new TCHWR contributor ev_w_.
"The theme of the past century of Western fashion is this: We take clothes designed for activity, and we adapt them for inactivity," argues a recent article in The Atlantic, titled "Everything You Wear is Athleisure." But it was only recently that the term, "athleisure," referring to athletic clothing altered for casual or social occasions, entered common parlance.
It gained traction with the meteoric rise of yoga leggings sold by Lululemon, a Vancouver-based brand founded in 1998 as brands like Acronym and Arc'teryx were also taking off. As these companies were pioneering the style that would become known as "techwear," Lululemon built a brand that would become synonymous with athleisure (and representative of a multibillion dollar empire).
Arguably little distinguishes one term from the other: Both "techwear" and "athleisure" refer to function-forward garments designed with purpose-specific materials and features. But the visual aesthetics of each niche reflect the difference in their target demographics: Techwear is primarily marketed to men, athleisure to women.
While athleisure and techwear may have come into the world as two sides of the same coin, techwear has grown into a male-dominated space; consequently, it is associated with a "hard" look, typified by boxy silhouettes, geometric shapes, metal hardware and materials designed to be barriers against the elements. In contrast, athleisure brings to mind a "soft" aesthetic, with seamless and zip-free construction, figure-hugging materials that highlight curves, and soothing textures that emphasize relaxation — all qualities commonly associated with femininity.
Bridging the gender gap 
Perhaps due to the inaccurate perception that it is focused exclusively on comfort or has become too mainstream to be interesting anymore, "athleisure", and Lululemon by association, have gained a bad rap in certain circles. But for better or worse, Lululemon, especially through its Lab label, is breaking new ground in its efforts to bridge the gendered divide between athleisure and techwear.
In 2009, Lululemon began an experiment with its Lab sublabel, which updates its activewear with an avowed streetwear tilt. "Lab allows us to flex a slightly different muscle than we get to do in the main Lululemon line," Lab design lead Ben Stubbington told FastCompany. "It gives us room to play with design, instigate ideas, and try new things."
Lab garments maintain the main line's focus on quick-drying and moisture-wicking fabrics and leverage similar techniques such as bonding, laser cutting, DWR treatment, articulation and robust sewing. Lab, however, strives to create more modern shapes with sharp edges and streamlined silhouettes.
"We've taken away much of the curve seaming that accentuates the female form," Chief Product Officer Sun Choe told Fast Company. "We've taken out some of that in the interests of minimalism, which makes the clothes feel a little less feminine." Indeed, Lab seems to be trading some of the softness of athleisure for the harder look of techwear.
Toned-down curves
In this move to a middle ground between the coded aesthetics of male and female, Lab has produced unisex concepts as well as those in gender-binary designs. On its section of the Lululemon website, androgynous models don identical pieces in the same product shot, though some items are ultimately bucketed as Men's or Women's when they are categorized on the site.
Unisex clothing is usually designed for men and adapted to accommodate women, however imperfectly. Lululemon Lab takes the reverse approach, giving way to its own design pitfalls. While the curves may have been toned down to fit men, some high waists reportedly remain and sow confusion about an item's intended customers.
Nevertheless, Lab seems so popular that male customers were not necessarily deterred by the notion of purchasing women's pants for themselves. More recently, Lab made a creative decision to produce an article, the Samat Jacket, with separate but nearly identical versions for men and women; the only distinguishing feature was additional zipper pockets on the men's version.
"Learning" from techwear
Building on the quality from the main line and having tapped into the aesthetic niche between genders (that is, techwear and athleisure), Lululemon Lab seems to have a solid foundation for further growth. As Stubbington says, "We're taking a lot of the learnings that we've acquired through the sports-related products and bringing them into the clothes you're wearing in everyday life." Further, he remarked that "we're trying to create a kind of pinnacle minimalism," which suggested to me that as it moves further towards techwear, the brand might be learning from a certain other Vancouver brand with a dedicated following: Veilance.
Lululemon Lab, Veilance and their parent companies have been growing in parallel, or even tandem, for over 20 years — presumably with a revolving door of designers, given the proximity of their headquarters. Arc'teryx launched its first outerwear line in 1999, a year after Lululemon was founded; the parent companies launched their hipper sublabels, Lab and Veilance, a decade later in 2009; Lab and Veilance then made names for themselves as standalone brands in 2019 to twin headlines trumpeting projects 10 years "in the making" or "of performance evolution."
Glancing at the catalogues of Lululemon Lab and Veilance, the similarities are undeniable. The S/S 2020 color palettes comprise pale plum, medium-hued grey-blue, almost translucent silver, and graphite grey. Across collections, details are limited to the odd "strictly functional" pocket and understated matte zippers; silhouettes are straight with just enough curve to convey organic life.
Veilance has built its name on the painstaking refinement of its pieces year after year while Lululemon Lab produces a new collection every season, some of which are more similar to Veilance than others. These similarities combine with a much reduced price tag to give the impression that Lab is knocking off the venerated greyman label.
A crinkled long puff
Despite the visual similarities, the quality of Lululemon Lab does not compare to Veilance: seams aren't taped, hardware can be fiddly, articulation stops at the hips, materials can be scratchy… It's nothing luxurious. Priced at 30-50% above mainline Lululemon (and 50-75% below Veilance), it still isn't cheap however, and the garment quality isn't either.
The Lab line doesn't compromise on the main line's quality of sewing, materials and design. Although I haven't owned anything from Lab for long enough to swear by its durability, I still wear the first pair of Lululemon leggings I bought in 2014, so I had no qualms about shelling out extra for the brand's more adventurous designs. 
My favorite Lab item is the Shiwa Long Puff, which I like for its embroidery that gives it a crinkled texture and hidden down compartments. I refused to own any such insulated clothing until recently because I felt down jackets made me look like the Michelin Man. But I was enticed by the slim shape of this parka, and once I put it on and felt the all-encompassing warmth, I understood why such coats are a staple in freezing climates.
A fluid suit
From this year's winter sale, I picked up the Samat Jacket and Pants, notable for its aforementioned men's and women's versions as well as being the first "suit" I've seen from Lululemon. In a Woolmark merino blend, it balances a crisp look with comfort, perfect for those of us who are relegated to home office indefinitely and unproductive without tailoring.
True to Lululemon's name, it has just the right amount of stretch to be accommodating and even flattering without clinging inappropriately. It also drapes fluidly, though the wool/poly texture is a bit rough to the touch. The finishing of the trousers sets them apart from their main line counterparts, not a bump in sight for perfectly smooth, body-defining lines. Although I purchased the women's version, the jacket is a bit boxy in a manner I'd expect for a unisex cut, but not otherwise ill-fitting — nothing a belt can't fix.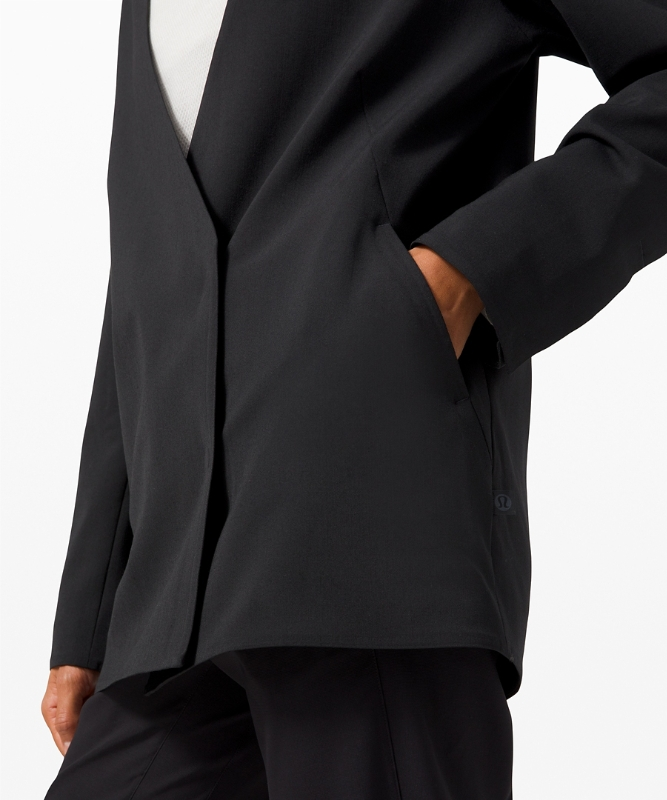 On the whole, Lululemon Lab's balance of aesthetic, budget and performance makes it an accessible entrypoint for techwear. It supports a range of exercise intensities, holds itself to clean and stark lines, and might sell for under $100 once prices are inevitably reduced under the heading "We Made Too Much."
Most importantly for enthusiasts like me, the brand caters to women, a rare find in the techwear space. While mainstream fashion designers usually start with womenswear and subsequently branch out to menswear, the reverse tends to be true for function-forward clothing. As with jeans, the t-shirt and the wristwatch that came before it, "techwear" in its modern sense is largely designed with men in mind, leaving womenswear to catch up.
Lululemon, the athleisure pioneer, has been the exception and torch-bearer outside of menswear. Of course, there are a number of valid criticisms of the company, from its less than subtle Veilance imitation to the questionable ethics of its founder, but until the rest of the industry catches up, it remains one of the best options women have for techwear.