The Delta pant is lightweight, comfy and good-looking. Tabington finds they can be styled edgy or smart, but the lightness comes with a few drawbacks.
The Isaora Delta pants are extremely feature rich and versatile. Made from 86% nylon and 14% polyurethane, they come in at under half a pound in weight. Even so, they manage to pack in an unbelievable level of performance. Just take a look at the feature list:
Stretch
Water repellency and breathability
Articulated knees
Four pockets (two front, two rear snap)
Cobrax slide button and zip fly
Elasticated waistband
Snap adjustable waistband
Elasticated drawcord adjustment
Elastic cuffs
3M hits
Fit and sizing
The fit of the pants is relaxed, with articulated knee pleats and slight taper to a half-elastic cuff. In the front, the cuff is flat and slightly stretchy, with an elastic band on the back of the cuff. This way the pants look neat in front and avoid the appearance of joggers. Since the material is so light, the weight in the cuff is enough to pull everything downward and keep the garment nicely draped.
The waistband is stretchy and elastic, and also adjustable in a few ways. There are two straps with snaps that can cinch in the waist for a more snug fit, and there are also drawstrings in the waistband to really dial it in just right. For the record, I went with a size small, which the size chart lists as a 33 inch waist. My waist is 35 inch and I am not stressing the elastic at all.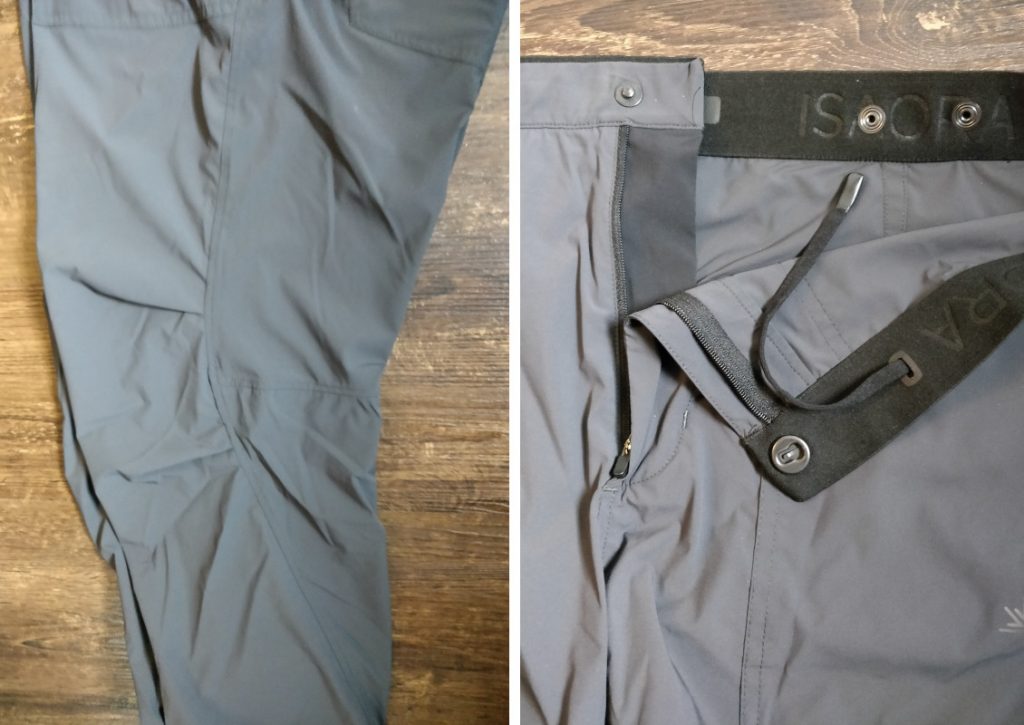 Features and versatility
Overall, these pants are some of the most wearable I own, and they work in a wide variety of contexts. They can be super casual when wearing them about town, but they also work well when you need to smarten up at a moment's notice, or if you want to incorporate them in a more edgy outfit – they really can do it all.
Being able to do it all doesn't make for a perfect pant, however, although the Delta gets pretty close. The front pockets are unlined patch pockets, so just a single layer of (again, unbelievably thin) material keeps whatever you put in there from the outside world. It also lets the outside world know exactly what you have in your pocket. I would never keep my keys in there. Also, since the fabric is pretty stretchy, a phone is going to bag out and deform the pocket and the whole fit of the pant.
The rear pockets secure with snaps. At first I worried about tearing the snap off when opening and closing the pocket, but the area around the fastener has some extra material around it to reinforce the button, so that has become less of a concern. However, the pockets are still just a single layer of material. I do not keep my wallet there because, again, they sag and deform the fit of the pants as well.
Styling
With all the included ways to adjust the fit of the waist Isaora has chosen to not include belt loops. This keeps the pant from going above a smart-casual look and into an business casual-dressy look, since I feel extremely strange about tucking shirts in without a belt. But maybe this is just my personal hangup and nobody else actually cares?
As far as styling the pants, the easiest thing to say is that they really just work. You don't have to think all that hard, just throw them on with a t-shirt and you're good to go in most cases. If you need to smarten the look up, cuff the pants a couple times with some nice lowtop tennis shoes or even dress shoes, put a nice sweater on and you're ready to meet your girl's folks for dinner at a moment's notice.
For a slightly edgier look, I like to slide the elastic cuff above my calf and let the pant drape down. I wear some socks that go above the calf with this and pair it with some louder Acronym x Nike collab shoes and a light shell.
Form: 9/10
They look fantastic, but the lack of belt loops is what keeps them from doing literally everything you'd need a pair of pants to do.
Function: 7/10
I don't trust these pockets and you don't really want to use them anyway since they alter the shape of the pant so severely.
Note: There is a v.2 of these pants, I do not own them, so I do not know what has changed (if anything) but they do come in black. V.1 is available in dark gray and navy.