Cozy and outdoorsy. These winter pants are a great deal – if you can find them.
The Uniqlo x JW Anderson Heattech Warm Lined Pants (henceforth referred to as the JWA Heattech pants) sold out in a matter of hours when they were released this fall. At least in the chillier parts of the world. But they are still available on the secondary market, and they are well worth hunting for. These are warm and soft winter pants that are equally comfortable on a chilly walk and indoors by the computer.
Fit and fabric
The outer fabric is a ripstop cotton, while the interior fabric is a very comfortable Heattech fleece. This proves to be a great combination, warm and cozy without overheating.
The ripstop cotton has a degree of water repellency, it is not the sort of cotton that soaks up every drop, but there is no DWR, and if you are caught out in rain for a few minutes, the fabric will wet through. However, having experienced this myself, the inner fleece fabric did not wet through, so the pants do offer a fair degree of protection against the rain. The same goes for wind; while the pant is not impermeable to wind by any means, the dual fabrics offer sufficient protection for most occasions.
Even while providing this protection, the pants are quite breathable. They may be among my warmest pants, but they are still pants I gladly reach for when I know I will be spending the entire day indoors by the computer. The only time I have felt too warm in them is when I am doing physical activity indoors.
There is, however, one real downside to the mix of fabrics Uniqlo is using here, and it can be summed up in two words: Handwash cold. To some, this in itself might be a dealbreaker. At any rate it is an inconvenience.
Features
A six pocket design offers all the practical funcionality you need for daily use. The back pockets are spacious, with snap buttons for securing the contents, and the front pockets are big and comfortable to jam your hands into as they are fleece lined. There is a flat-sewn cargo pocket on the left leg, which can hold a notebook and a pen, but no voluminous cargo. In the right front pocket there is a smaller pocket that works well for holding your phone. Unlike my issues with the Outlier Futuredarts this phone pocket works quite well. It holds the phone snugly, and it does not get in the way while sitting down.
The integrated belt is an added piece of functionality that lets you dial in the fit so you can wear the pants higher or lower depending on your leg length and just how slouchy you want to look. At the bottom, these pants have elasticated leg openings which adds to both the casual look and the warmth. The cuffs are flat on the front and creased on the back, and works well with boots and low top sneakers alike.
Styling
The first thing you do when you get these pants, even before cutting off the tabs, is remove the ridiculous bungee cord with "fun coloring". Voilá, you now have a stylish and simple outdoors pant, with a few nice details. The flat cargo pocket adds some visual interest, and there are hits of contrasting color at the entrance to the three of the pockets. This is rarely visible in use, but it does add a sense of heightened attention to detail that is not always present in Uniqlo's offerings.
Curiously, there are four seams marking the corners of each knee, which at first glance suggests knee articulation. There is no such thing going on here though, so these seams are seemingly there for a bit of rugged aesthetic.
Overall these pants have a casual, outdoorsy air about them, and they work well styled with earthy browns, greens and khaki for a heritage "outdoors man" look. They also work in more technical outfits, contrasted against blacks, where they take on a more military vibe.
Uniqloism
Uniqlo is forever a hot topic in techwear circles, loved by many for its stellar quality/price ratio, abhorred by some who prefer their techwear to be expensive and exclusive. For my own part, I love the focus on useful technology at a low pricepoint, and these pants are a great example of that. The idea "You always get what you pay for" is a myth typically perpetuated by those who have spent too much on designer clothing. That said you should always keep an eye out for potentially unsustainable material sourcing and exploitative work practices. Recently questions were raised about Uniqlo's sourcing of Xianjiang cotton, and the possibility of the supply chain including forced labor. At the time of writing it is not clear if this actually occurs within Uniqlo's cotton sourcing, so make of that what you will.
These pants retailed at $49.90, which is dirt cheap for what they are. At the time of writing they are sold out in most regions, but you may still be able to find them in warmer regions where demand is lower, or on the secondary market. Even though a 100% markup stings, I would say they are still very good value for money at that price.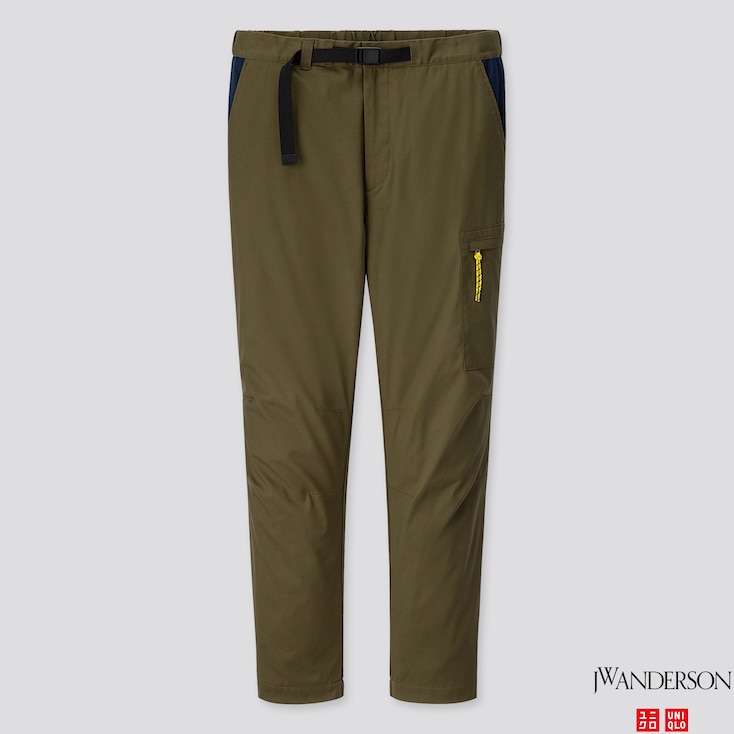 Form: 6
Simple, utilitarian and outdoorsy. A nice-looking but firmly casual pant. The olive color is great and adds a bit of military surplus feel.
Function: 8
Integrated belt, phone pocket and utility pocket are excellent features at this price point. These are warm and extremely comfortable pants, whether you are inside or outside. Hand wash only is a minus, as is lack of articulation and DWR.