Running is living. Just more intense. Zachary Horine explains the principles behind a great running outfit – which also apply to high-performance urban wear.
For me, running started as a form of therapy. It allowed me to clear my mind while simultaneously bettering my body. This connection between mind and body grew even stronger as I ran my first marathon.
The day of the marathon took a turn when rain started pouring, and although this wasn't a surprise for the region, it was a factor I had not planned for. I battled through the rain and the wind for the 26.2 miles as my clothes became soaked and weighed me down. I can still remember the feeling of my clothes sticking to my body and holding me back from the goal that I wanted to achieve.
Flexibility is key
After this experience, I began to look for alternative clothes that could be used for running and would provide the solutions I needed. This is where the bond between running clothes and technical fashion started for me. This bond has helped me to not only run faster and more consistently, but also feel protected while I am training and to know that no matter the weather at a race, I will be achieving my goal regardless. This bond between running and techwear is founded on the idea that running clothes are the best example of clothing that need to be technical. Additionally, I believe that the culture of running and the culture of techwear are similar: both communities are filled with people eager to learn, eager to better themselves, and eager to flex their progression.
When I began to implement technical pieces into my rotation of fits, I started by wearing running fits before and/or after a run. I noticed that I felt better throughout the day, even more confident, by wearing clothes that fit well and were made of premium materials. Before going into these types of fits, I think it is important to define my version of the term, "technical clothing". For me, this term encompasses clothing that serves a purpose beyond style. This purpose is to be flexible, protective, simple, and durable. Running clothes embody every aspect of this definition.
Flexibility is key in running gear. What I mean by flexibility is how effortlessly can you move in your clothes. For instance, a heavy shirt can impede the flexibility in your torso and arms, breaking your stride. Additionally, if you are wearing bottoms that are too long for your body you may not be able to extend your legs properly to get into the flow of your run.
Protection from adverse conditions
This directly translates to clothing I am wearing on a regular basis. I want to be able to move freely and if I need to jog home quickly or run with my dog, I don't want my clothes to stop me. Examples of pieces that I have found to be very flexible are the Outdoor Voices Anytime 7" short, as well as the Veilance Cevian T-shirt. I have the first generation Cevian, and the fabric is actually quite flexible, yet still retaining its structure to help you move more efficiently. A good rule of thumb is to look for materials such as nylon blends, or a wool blend if possible. Lastly, and this is specifically for running/workout inspired technical clothing: try to avoid heavy pieces, such as thick bottoms or heavy outerwear; instead rely on layering and your body temperature regulation to keep yourself warm/cool.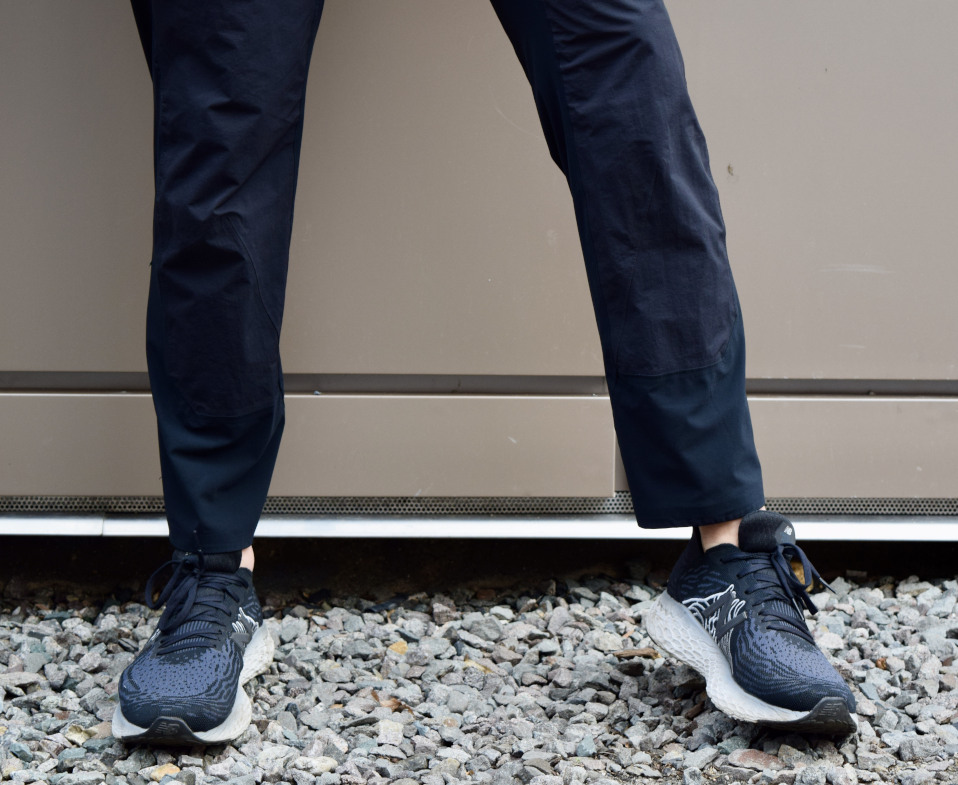 Protection in the context of running means protection from weather, traffic and unforeseen events. Running while sopping wet, for instance, can be dangerous as your skin is exposed to chafing and your muscles to cramping. It is important to be intentional when deciding what to wear, building your collection for adverse conditions piece by piece. This means buying a few windbreakers, water resistant jackets, base layers, tights etc. For base layer products you can save some money by looking at hiker core brands that you could find at REI; these brands pair nicely with more technical pieces as they serve a highly utilitarian purpose.
Adverse weather doesn't just mean cold and wet; it is important to have breathable pieces for warm conditions as well. Breathability will allow your body to shed excess warmth and continue moving when your body heats up.
Storage and visibility
Visibility is also important if you are running in traffic. Bright colors increase your visibility at night, and it is recommended that some parts of your fit is reflective. If you do not want to look like a 3M strip running through the streets, you can use layering to your advantage. An example of this is to have a jacket with visibility features that can easily be stored when not used. A great example of a brand that takes visibility seriously is Satisfy Running. Their garments sometimes include reflective parts that are only visible when you, for example, fold up the back hem of your jacket, fastening it with a draw-cord.
The last aspect of protection I wanted to cover is storage. I group storage under protection because a runner needs plenty of space for fuel, keys, payment, phone perhaps, and other necessities for running around the city. Look for pockets with zippers, pockets that do not protrude too much from the body (to reduce sway or bounce), as well as placement of pockets that react differently when running and walking. The point of these examples is to show the importance of being intentional in your choice of clothing. In the end we all have different needs, and the needs for city running will differ from those for trail running. List your own needs and seek out products that fit them.
Keep it simple
Simplicity is another topic I want to touch on, and an important part of tying running gear and techwear together. Some runners enjoy wearing bold, bright colors or complicated gear, but I personally think this hinders the running experience. To me, the strongest, most versatile pieces for running are ones that you could easily wear in a non-running setting. For example, I often run in my Veilance Secant Comp pants when it is raining or windy. These pants fit all of the criteria listed above, while keeping to a simple aesthetic. This is especially practical on the weekends, when I may run with a friend or grab coffee after a run when I am downtown.
I prefer running clothes that are quick-drying and passable as a casual fit when I am not running, and this preference can be seen throughout my wardrobe, shoes included. I personally use the New Balance Fresh Foam 1080 V10, which is a top rated distance running shoe, as well as a great casual sneaker. The last thing I will say about my running clothes being simple is that excess branding make your clothes less appropriate to wear when not running. Not that clothes with obvious brand insignias are bad, but it can distract from the fit. The goal is to choose clothes that are casual, simple, and wouldn't be noticed as being overtly tactical/complicated. Some brands to look at for simplicity are Outdoor Voices, Lulu Lemon (Lab or not), Nike (Mainline or ACG) as well as Salomon.
Clothes as tools and fashion
A final issue to take into concern is durability. Some materials (like Gore-Tex) will last longer if you wash them often while others, like merino, will last longer the less you wash them. In summer, as you are sweating profusely on your runs, there are some tricks that will let you wash less, like wearing shorts without a liner or losing the shirt on a hot day. It is inevitable, however, that your work-out clothes will need to be washed more often. This is where you need to pay attention to the quality of materials used. Merino wool is somewhat fragile, but makes up for it with natural odor-control properties that allow you to wash it less often. The fragility can be alleviated further by choosing fabrics that mix merino with polyester to increase its strength. Some companies treat their polyester fabrics with technology from Polygiene or HeiQ, adding odor-control to an otherwise notoriously smelly material.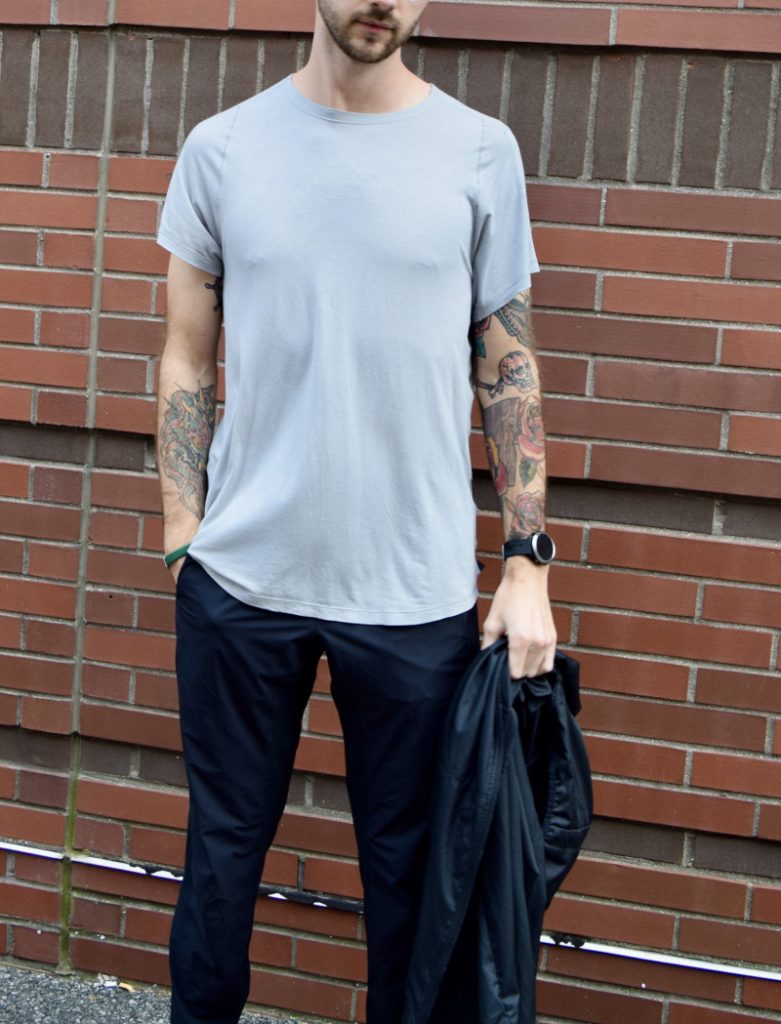 A negative mindset for running/workout clothes is that you shouldn't spend much money on them because they will get trashed anyways. The fact is there are some great products that do indeed cost more but are made from higher quality materials that enhance not only your run/workout, but your wardrobe for years to come. Additionally, there are plenty of workout brands (Arc'teryx, Lulu Lemon, Outdoor Voices) that boast impressive warranty/customer service teams which will either replace a faulty product or offer a discount for another.
These principles for running clothes also apply to urban performance wear, i.e. techwear. Our clothes can be functional tools as well as aesthetic statements. If you want to elevate the performance of your running clothes or your techwear outfits, consider starting with the needs I have been describing: Flexibility, Protection, Simplicity, and Durability. From there you can identify what else you need to go further and faster, while looking your very best.