DYC Team remixes the trench coat, adding a dash of tech and a solid ounce of Taiwanese street style.
The trench coat is over 100 years old, a classic piece of utilitarian clothing. No wonder, then, that a number of fashion brands have tried to update it through the years. Originally it was made from water-resistant wool or dense cotton gabardine. Long, double-breasted, with lapels that could be closed tight against the wind, it was ideal armor against inclement weather when it was first brought to market. During the first world war iconic features like shoulder straps (for attaching military insignia) and D-rings (for carrying equipment) were added.
Culturally, the trench coat evokes film noir and hard-boiled detective stories. Wet pavement gleaming under streetlights. Raindrops hanging in the cool air as a match is struck to light a Pall Mall. Also, sadly, after the tragic mass shooting at Columbine high school in 1999 the garment is also associated with Dylan Klebold, Eric Harris and the "Trench coat mafia", making "school shooter" a vibe to be avoided at any cost when wearing the garment.
What is a modern trench coat?
Legacy aside, what do we want from a modern trench coat? Taiwanese brand DYC Team tries to answer this question with their Buckle Trench Coat, a new pice in their fall/winter 2020 collection. Hong-kong based web shop Shellsoul.com kindly sent me the coat to review.
Pulling the coat out of the box, my first impression is that it's quite heavy. Being spoiled by lightweight high-performance fabrics from Veilance, this is something entirely more substantial.
Flipping through the tags, you will find an eyeful of florid marketing prose and a tag indicating that the DWR treatment used on the coat is Scotchgard. Very old-school. Appropriate, I guess, for an old-school garment. The coat even has a tartan lining as a nod to its heritage.
Putting the coat on, it feels great. The oversized silhouette fast-forwards the style into modern streetwear territory, and several features add to the functionality of the piece. There's a huge, zippered napoleon pocket on the left side of the chest in addition to equally huge hand pockets. The traditional belt has been replaced by a strap efficiently fastened with a plastic snap buckle. You can close the coat up further with a button by the right shoulder, and for even more protection the wind guard closes with another button. This makes for four different degrees of closure and easy ways to style the coat, from open to fully buttoned up.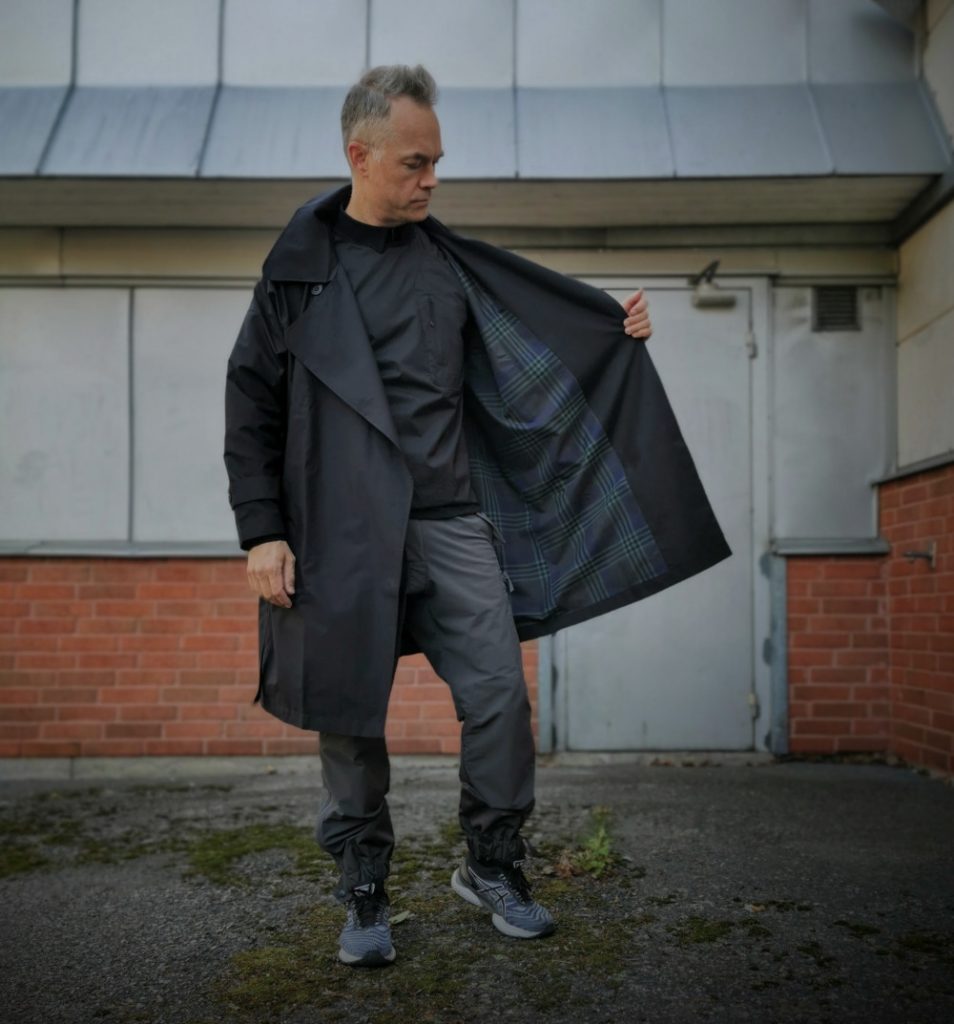 Pushing into streetwear
The DYC Team logo on the front will likely be divisive. It is reflective, adding visibility for those dark nights you are bound to skulk around in. It is also the detail that most obviously pushes the coat out of traditional menswear territory into streetwear. Normally a big logo is the kind of thing that makes me scroll ahead quickly when browsing a webshop, but wearing this coat I've come to appreciate the logo as a graphical embellishment.
The no-nonsense typeface is nice, along with the fact that DYC Team is a rather obscure brand. It adds some mystique and incongruity to the familiar drama of a double-breasted coat with wide lapels. It means I'm less likely to wear the coat over a wool suit to a formal event, and makes me feel right at home wearing it with my Cav Empt cargos for an easy tech/street/sleaze vibe.
The fabric on this coat is a water-resistant polyester, partly made of recycled PET bottles. Shellsoul lists the water resistance at 600 mm hydrostatic head, which is poor compared to, say, Gore-Tex Pro which will give you around 28,000 mm. On the other hand you will not find a Gore-Tex Pro trench coat anywhere near this price range. A more relevant question is how the fabric performs in everyday use.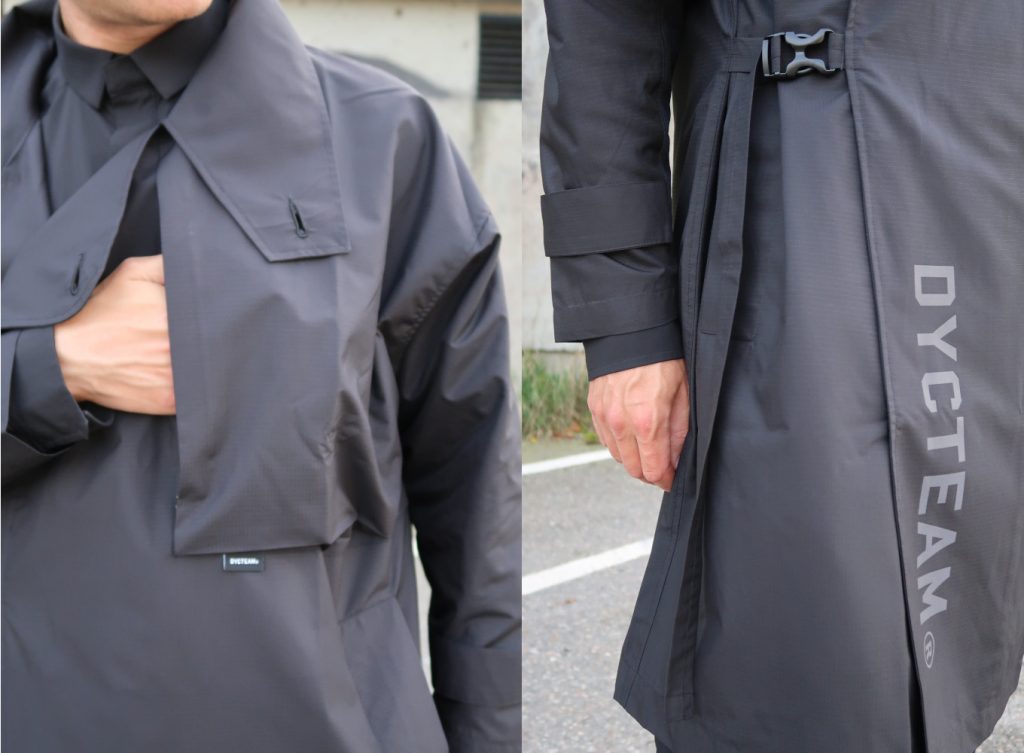 I have not been able to test the coat in heavy rain, but its minimal closure system, relying on buttons and buckles rather than waterproof zips, means water would likely leak even if it used a membrane. The absence of a hood reinforces the point: this is not impenetrable protection against precipitation. In light to moderate rain it does just fine, however. The fresh Scotchgard beads rain drops with the best of them, and the double-layered fabric does a terrific job of blocking the wind.
My biggest gripe with the coat is its short sleeves. It is a quirk it shares with many of DYC Team's patterns and I guess there is a certain vibe to it, but it honestly makes little sense to have the sleeves of your shirt sticking out on cold and drizzly days.
Geworfenheit > Athleisure
The coat fabric has no stretch and little breathability. For a tighter shell-type jacket that would be very bad news, but the loose cut of this trench coat allows free motion and natural ventilation. If you go for a brisk walk you will get sweaty-back. But let's be real here: trench coats were never athleisure, they are textile architecture turning you into a reflection on the Geworfenheit of man.
It's a beautiful piece all in all, an ocean of fabric with sloping shoulders and a soft, generous silhouette that adds a distinct taste of Asian streetwear to a western classic. Taiwan has one of the most vibrant techwear scenes in the world and is home to well-known brands such as Guerilla Group, Oqliq, Goopimade, 4Dimension and Wisdom. I did not know about DYC Team before trying out the Buckle Trench Coat, but I will definitely consider picking up more pieces from them.
The DYC Team Buckle Trench Coat is priced at $256 in the Shellsoul webshop. Very fair for a unique statement piece.
Form: 8/10
Ultra-modern, wide cut and reflective logo pushes it toward futuristic streetwear. Short sleeves, good weight, polyester feels nice. A coat to hide and/or stand out in.
Function: 5/10
Fabric protects against wind and some rain. Not the most breathable. Wide cut allows mechanical ventilation and free movement. Pockets are grocery-shopping-level huge.