There are some real bangers among the new Acronym pants and jackets – but also some puzzling fabric choices.
Acronym, the non plus ultra of techwear brands, just announced their (first) big fall/winter drop. It is up on the mother site right now, and I have been obsessing over the pictures and available information. Here is a breakdown with ratings of each piece, 1–5.
Acronym explains that to make this hat, "hollowcore Babyllama fibers are injected into a tubular nylon yarn yielding insulation above and beyond expected volume to weight ratios". That just makes me feel sad for those poor baby llamas. Unless Errolson Hugh sat down and martial arts-knitted each hat himself, I have a hard time imagining this could possibly be worth its price. It is unquestionably a nice hat, and hats are unquestionably nice to wear when it is cold out. But seriously. The best case scenario would be that it is made from excess material from J65-AJ production and subsidizes some other pieces where the margins are slimmer.
Price: €284. Copworthiness: 2/5.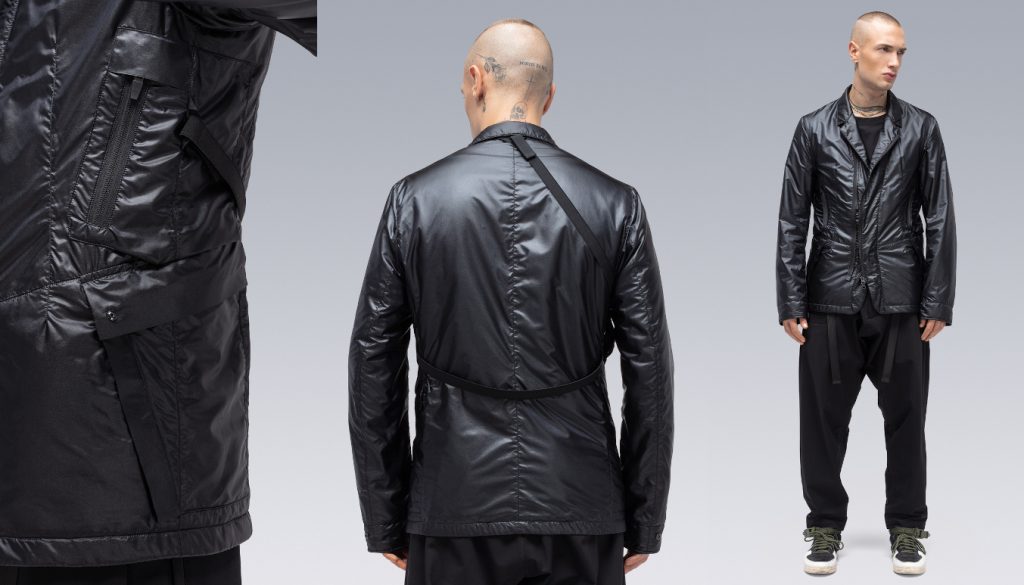 The good news is that the J29 is a very cool tech blazer cut. The bad news is that the gleaming black Polartec Alpha fabric makes you look like a futuristic Gestapo officer. This jacket will, um, shine in some specific contexts like, say, a The Matrix larp. But a matte finish would be better in just about every other scenario.
Price: €1,438. Copworthiness: 1/5.
Hands down the best looking piece in the collection. A supermodern Mackintosh, with a strip of olive running down along the zipper – a small, beautiful accent against the black body. The potential downside is that the jacket is made from 2.5L Gore-Tex. Acronym does not refer to the fabric as Paclite, but their fabric is a two-layer Gore-Tex construction with polymer dot backing, which is how Paclite used to be constructed. (These days ordinary Paclite uses a thin film instead of polymer dots.) Paclite has a poor reputation among performance freaks, as its breathability, reliability and durability has let many a user down over the years. The poor performance compared to Gore-Tex Pro is the result of optimizing for weight and packability, and Paclite is also a quiet material compared to the noisier Pro. This is hardly the kind of piece you will pack in your bag "just in case" like you would a regular Paclite shell, or one you will put on for a three day hike in torrential rain either for that matter. For urban use and the occasional shower this Paclite-ish fabric may just offer all the functionality you need. And the superb aesthetics – masterfully balanced between casual wearability and "Look at me, I'm wearing FASHION!" – could mean nobody will notice even if you are sweating due to lackluster breathability.
Price: €1,982. Copworthiness: 4/5.
Quite honestly, I want something made of this material just to casually brag about it. "Oh, this old rag? Why, it is Babyllama Air Jet Wool, dear." If it is conspicuous coziness you are after, you can hardly do better than the J65-AJ, a short-sleeved guarantee for toastiness all through winter. If it is futuristic style, or frugal efficiency you are after, please move along.
Price: €669. Copworthiness: 2/5.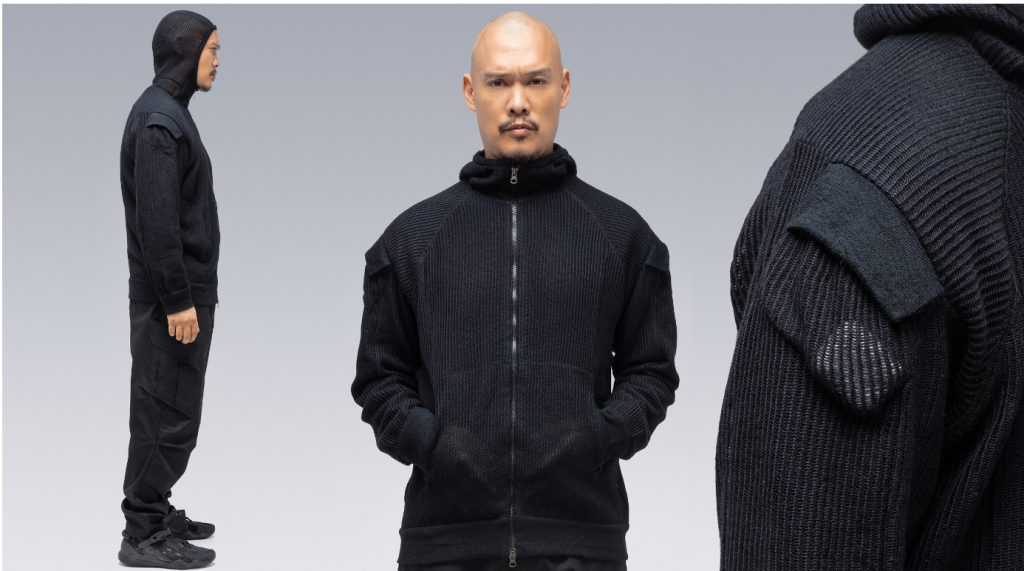 The Cashllama and silk blend of the J77-AM midlayer is sure to be a nice lightweight insulator. It must be at this price, right? But please keep this piece hidden under an outer layer. While it looks like yummy high-quality yarn, the transparent mesh makes for freaky opticals. Trust me, nobody wants to see your hands resting menacingly on your stomach when you warm them in your pockets.
Price: €1,100. Copworthiness: 2/5.
When you are paying a premium for a no-compromise Acronym piece, this is what you expect. Extra everything. This is a Gore-Tex Pro shell that comes with bad-ass attitude and a ton of features that set it apart it from your run-of-the-mill jacket. The hood looks mean, and offers "full spectrum protection", whatever that means. The Tec Sys webbing across the chest adds both visual interest and modular functionality. Then of course there are seven pockets, jacket sling and Acronym features like ForceLock, SpeedLock, Gravity Pocket and Aux Zip. This shell design will be too military for some occasions, but it is one that will mostly draw welcome attention. The J79 has "iconic" written all over it (no, not literally, thank god), and it is by far the piece that has generated the most buzz before the drop.
Price: €1,700. Copworthiness: 5/5.
The original NG4 neck gaiter in Polartec Powerstretch is kind of cool, if you are going for the edgier side of techwear. This time around it comes in a soft, fuzzy, thin Cashllama weave. This material just looks strange with the tech ninja design, and it is not an optimal material to keep you warm when skiing downhill, or staggering through a blizzard. It is just too air permeable to stop icy winds. For indoors activities, like robbing banks, it still works I suppose.
Price: SOLD OUT. Copworthiness: 1/5.
The same goes for this mess mesh. The design/material mix is slightly less ridiculous; how is that for damning with faint praise? There is still nothing remotely motivating the price of this face hugger.
Price: €357. Copworthiness: 1/5.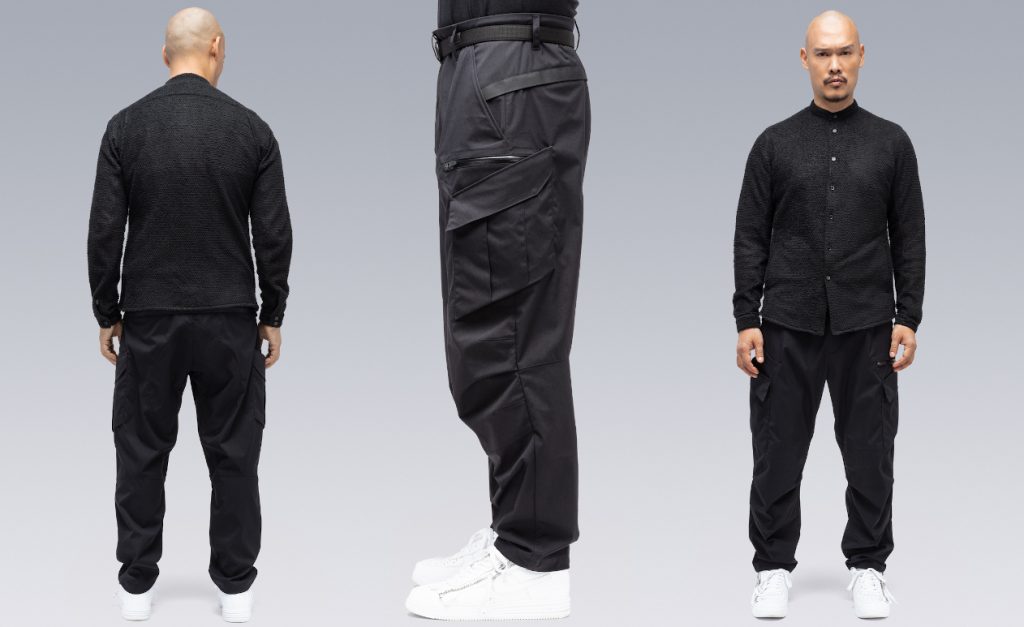 The P34 is a snazzy cargo pant that nails the balance between structure and freedom of movement. There is a ton of pocket space here, beautiful detailing and a complicated pattern designed that makes love to your knees. This pant looks roomy, like a pant you will be comfortable in whatever you are doing, without becoming too loose like the P33. E is for encapsulated nylon, and this is the lighter, water-repellent and breathable version of the pant.
Price: €1,140. Copworthiness: 4/5.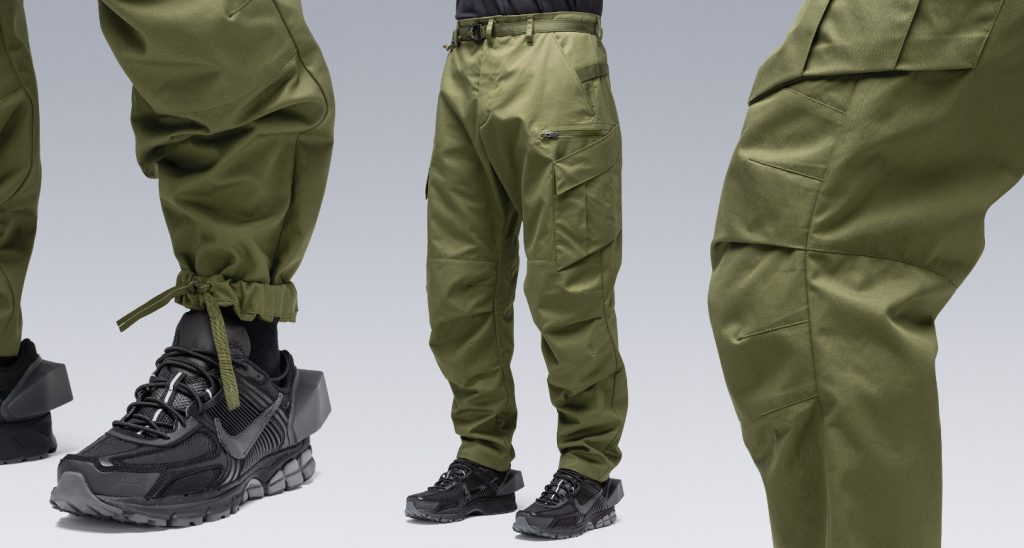 Same deal as above, except the S version is made of high-density water-resistant cotton gabardine from Stotz, a fabric I have no personal experience with, but it is a sturdy material that is windproof, water repellent and held in high regard by Acronym heads. Web pictures can sometimes be deceiving, but the green colorway looks absolutely scrumptious.
Price: €1,244. Copworthiness: 5/5.