Its look is unique, but how will it hold up? The new fleece from Veilance, the Dinitz Comp jacket, breaks new ground—while also leaving some questions unanswered.
I will readily admit that I am a sucker for Veilance tops. I have tried just about every single Veilance shirt, sweater and cardigan on offer over the last 4–5 seasons, and I dare say that I like their sweaters and cardigans more than their jackets. That said, I was on the fence about the Dinitz line. I am not partial to fleece, and I certainly do not associate the fabric with Veilance. In photos the material looked fragile and prone to pilling, but the Comp Jacket, with its unique looks (utopian space uniform meets shag rug meets cheap Uniqlo fleece), intrigued me enough to give it a shot.
Fabric
The fabric is new to Veilance: a polyester/wool fleece blend that is soft, very warm, and as thick if not thicker than the 2018 and pre-2018 Graph. I would even call this thing hot, which I think is one reason why it is called a "jacket" instead of a cardigan. The zipper and v-neck (it is more of a U-shape, really) are very nice features in this regard, adding ventilation and allowing one to quickly dump or retain heat. Terratex works well for the hand pockets and adds some durability to the back and cuffs.
It is too soon to tell, but I do have some concerns about the fleece pilling. It obviously lacks the nylon face fabric coverage of the Graph (which was fantastic ), but the material itself is also more fuzzy than your average fleece and seems a little delicate. I definitely would not wear this with a backpack that had "non-Nomin" straps, and I feel like I will need to be pretty cautious if I wear it as a standalone outerwear piece.
Detailing
Two open hand pockets like those found on the Haedn jacket utilize the fleece fabric on the inside and a nice microfiber fleece against the outside Terratex. I am not sure if I have seen this material on other Veilance pieces, but it is a nice touch and adds to its case as a "jacket"/standalone outerwear piece.
Cuffs seem to be a point of emphasis for Veilance this season, as the Dinitz Comp and Mionn Comp Hoody (and I believe the Navier AR although I have not tried it) have similar cuffs that are both nice looking and very fitted. The Terratex is nicely cut, with a little extra material on the underside of the wrist for durability, and it hugs my wrist super comfortably. It also gives the sleeves a sharp-looking taper and keeps the jacket out of chunky-dad-cardigan territory, which it seems to border on.
The zipper is the Excella version, which is the same as on the pre-2018 Graph Cardigan, Monitor, and Patrol [credit to /u/John-Gal for providing this info]. It is black, it says "VEILANCE" on the pull tab, and it feels more substantial than the 2018 Graph zipper. The 2018 Graph zipper matched the color of the sweater and had the standard matching nylon pull tab.
The collar is laminated, which adds structure and some very subtle color contrast.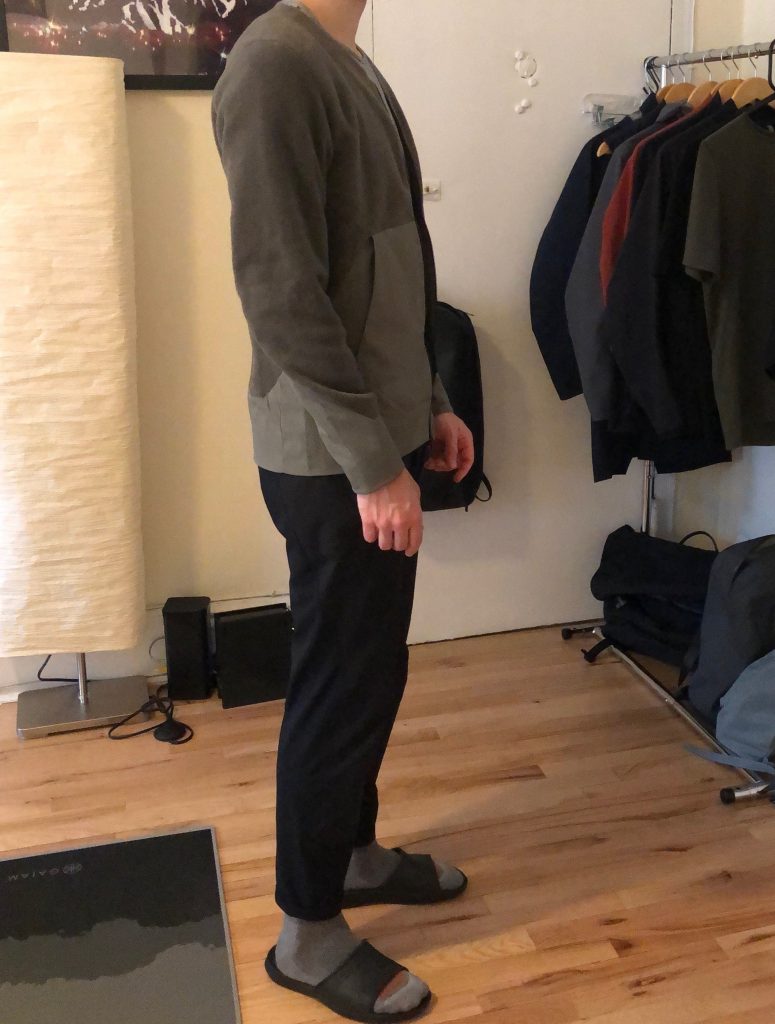 Fit
Like most Veilance, the Dinitz Comp fits slim but true. It runs a little tight in the chest and flares out very slightly at the hem. Arms and shoulders are roomy and taper pretty intensely into the Terratex wrist panel. The whole thing borders on the shapeless, but the paneling does just enough to contain the frump and make the piece interesting enough to make up for its weird idiosyncracies.
Taking my usual size, it works for me as a midlayer under fall/winter shells. I have yet to try it, but I imagine the sleeves of a Frame long-sleeve shirt would bunch up under the jacket.
Color
The jacket is available in the colors clay and black. The clay color is shockingly represented accurately on the Veilance product page, it is a unique brownish grey that goes well with just about everything. I like that the clay version has a stronger contrast between the fleece and Terratex panels, which makes for a bit more of a statement and really highlights the detailing of the piece.
Black is obviously a more "techwear wardrobe-friendly" option, but it sacrifices some of the style of the Dinitz for subtlety. I personally love Veilance colors and will nearly always purchase a colored piece over a black one knowing that the colors are limited/seasonal runs and black will be available as long as they produce the piece. The colored pieces also tend to sell out quicker.
Styling
Styling the Dinitz can be a little challenging. It can hardly be called a "classic" style, like Veilance called the 2018 Graph sweater. That said, there are a few ways I can think of styling this thing:
Buy a size up and go all in on the slouchy tech cardigan look.
Wear it layered over a turtleneck for maximum Star Trek vibes and extra warmth in the neck area.
Wear it over a t-shirt or a slim collared shirt and rock it zipped for a little class, unzipped for a little casual.
Conclusion
This thing is weird but pretty cool. I will be wearing it a lot this winter, as I tend to run cold, and I like its unique looks. At €450 it is pretty damn expensive for a fleece cardigan, but if you really like the way it looks and feel like you can work it into your outfits, it might be worth your while. Also, if you like the color and material but are a little freaked out by the design, you can get the sweater instead.
Form: 8.5/10
There is nothing else that looks like the Dinitz jacket on the market today. That is a key selling point, even if it sacrifices function in order to progress the fleece jacket form.
Function: 6/10
A pretty low score for a Veilance piece, but the material concerns and the fact that this does not fit as seamlessly into a layering system—be it all Veilance or mixed with other brands—as other tops and midlayers takes away some points.