Bombproof and insanely comfortable – Enfin Levé's Ameztu pant in Merino Dryskin is true high-performance protection for the winter months.
For anyone familiar with merino wool and Schoeller's Dryskin, merino-backed Dryskin will sound like one of those Goldilocks materials that should combine into the perfect winter pant. I was certainly excited when I reached out to Enfin Levé back in August, asking them what their best fabric for autumn/winter was, and heard that they had this fabric available.
While their Merino Dryskin Ameztu was not officially released until a few weeks ago, I got a pair made in advance, and have been wearing it all through autumn and the beginning of winter. My hopes were not misplaced: this winter Ameztu is and amazing pair of pants.
Winter armor
Let's get one thing on the table right away: At €480, this is an expensive pair of trousers. Not compared to Acronym or other high-end fashion brands – their pants routinely cost two to three times as much – but compared to "normal" pants. On the other hand, absolutely nothing feels normal about these pants.
What is most striking when you wear the Ameztu out in inclement weather is that you just do not think about your legs. The Ameztu is so protective and comfortable that you do not even notice it, or the weather around them. I have on many occasions felt the wind on my face and neck, and the cold biting my hands, but I never have to worry about my legs as they are toasty in their fort of high-tech synthetics and soft merino.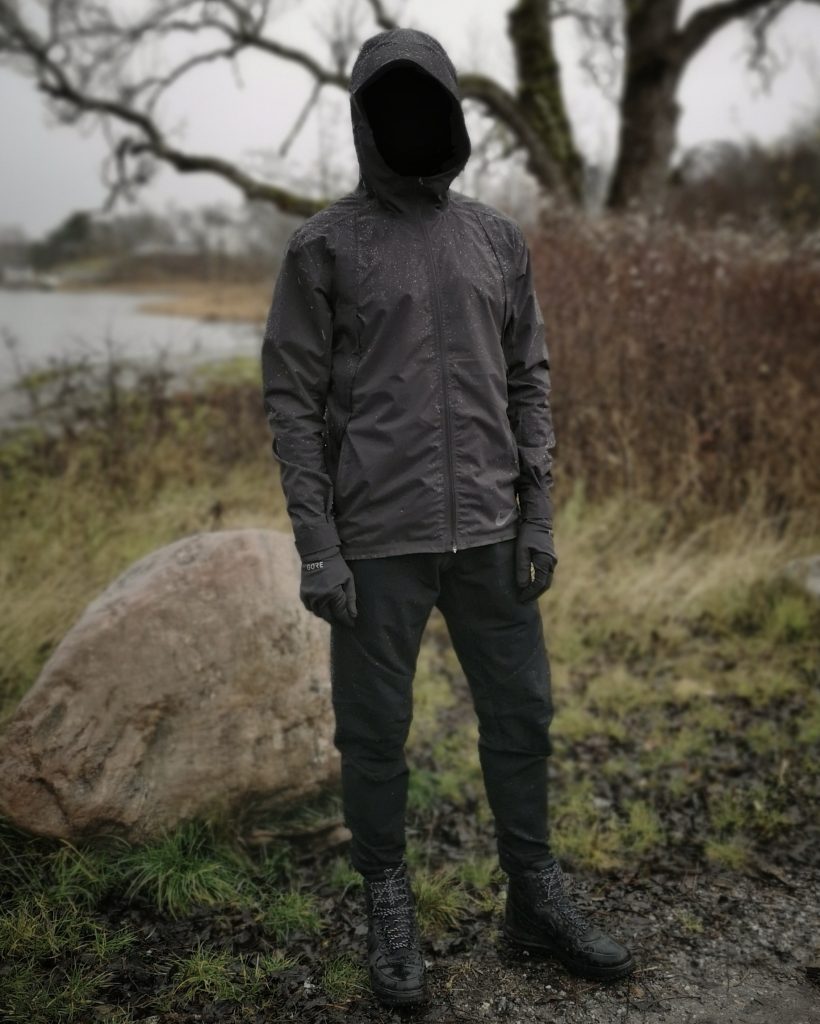 That said, winter in the Stockholm area has been uncommonly mild so far, so I have not tried the pants in temperatures significantly below freezing. But they are warm enough that I have been perfectly comfortable without ever putting on a baselayer beneath them.
His dark materials
Compared to ordinary Dryskin, this combined material is much thicker, much more protective and much warmer. The exact make-up is 64% Polyamide, 20% Merino wool, 6% Elastane. Merino wool is natural tech, with excellent moisture-wicking, thermo-regulating and anti-bacterial properties, while Schoeller's Dryskin is famous for its weather resistance that does not compromise breathability.
Note that his is not waterproof material, at some point it will wet through, but the water repellancy is superb right out of the box. The fabric is treated with Schoeller's 3XDry tech, and from my experience it beads and sheds water beautifully, even worn in extended rain. I have not yet washed the pant, however, so the time will tell how the DWR holds up after a few washes.
The Dryskin is also given Schoeller's Coldblack treatment, to reduce heat absorption, which is probably a good thing. You see, the shade of the fabric is extremely black, to the point that it makes most other black garments in my wardrobe seem grayish. This also means the fabric shows off dust and dirt very well, but most dirt is easily brushed or wiped off the face of the pant. The Dryskin has a rubbery, technical feel, a slightly coarse texture and is highly dirt repellant.
Iteration or imitation?
The Ameztu cut is similar to Acronym's P10, which has annoyed some Acronym heads. The similarities are indeed obvious when you put the pants next to each other, and I do not think that Enfin would have created the Ameztu unless Acronym had made the P10. But inspiration is the mother of invention. Although the pants may border on too similar I will be generous and file the Ameztu into the category of "similar take on a type", the sort of iteration that drives competition, progress and innovation. After all, Acronym has never offered the P10 in Merino Dryskin, and they currently do not offer them in any material at all.
The style is best described as slim, tapered and futuristic – you might call them the skinny jeans of techwear. Even so, they are far from skin tight. The rise is relatively low, but the crotch is still roomy, as are the thighs. The knees are articulated for great freedom of movement, and from there the pant legs taper down to the very bottom where gusseted zips tighten them around the ankles.
As for sizing, the waist is slightly on the plus side. Small fits me a bit bigger than 30". It is listed as 40 cm half waist circumference, but my pair is slightly larger than that. A drawstring makes sure I can still wear it without a belt, but adding a belt improves the fit. The small is also perfect in length for me at 180 cm, but you will find a sizing chart to compare to your own measurements.
Features
The Ameztu is quality through and through. Apart from the top-shelf fabric, the fly buttons are Cobrax snap fasteners, the fly zip is from Riri and the ankle zips are YKK Aquaguard. The construction overall is premium, with excellent stitching and attention to detail.
This pant comes with two different pocket configurations: cargo and non-cargo. I went with non-cargo since the pants are more wearable for me without them. This is a five-pocket design with two roomy front pockets, diagonally cut back pockets which are uncommonly voluminous (although they suffer from the typical drawback of back pockets: you will be sitting on their contents). A phone pocket is located on the outside of the right front pocket, and works very well for the purpose. Sitting down or moving, it keeps your phone accessible and out of the way.
These pants are quite warm, and with the ankle zips tightened your legs feel safe and cozy. Indoors you undo the zips to improve air flow, and the pants are perfectly fine for indoors use as long as you do not plan on exerting yourself physically. For outdoor sports these perform magnificently in cold weather as they breathe well, wick moisture and don't restrict movement at all. The ankle zips are somewhat limiting, however, in that you can not comfortably stuff them into, say, a slalom boot, nor are the leg openings wide enough unzipped that you can pull them over one.
Make it custom
Like Rosen, Enfin Levé is a made to order company. I would expect that most orders are for standard designs, but for a fee you can alter them, whether you need custom measurements, fabrics or features. Mine are the standard non-cargo design in small and they fit just like I want them to. If I had a do-over I would ask to have the phone pocket placed on the left-hand side where I prefer it.
Enfin Levé's customer service is famously excellent. They have always been responsive to my questions, and happy to offer service and advice beyond what one has any reasonable right to expect. This, in combination with the superb quality of the clothes I have received from them, means I can warmly recommend them even though I know it can be daunting to order a €440 pant that you cannot try on beforehand. The fact that their clothes are made to order means increased delivery time, so expect a few weeks between ordering and getting your hands on these pants.
Worth waiting for? You bet. These are hands down the best winter pants I have ever worn.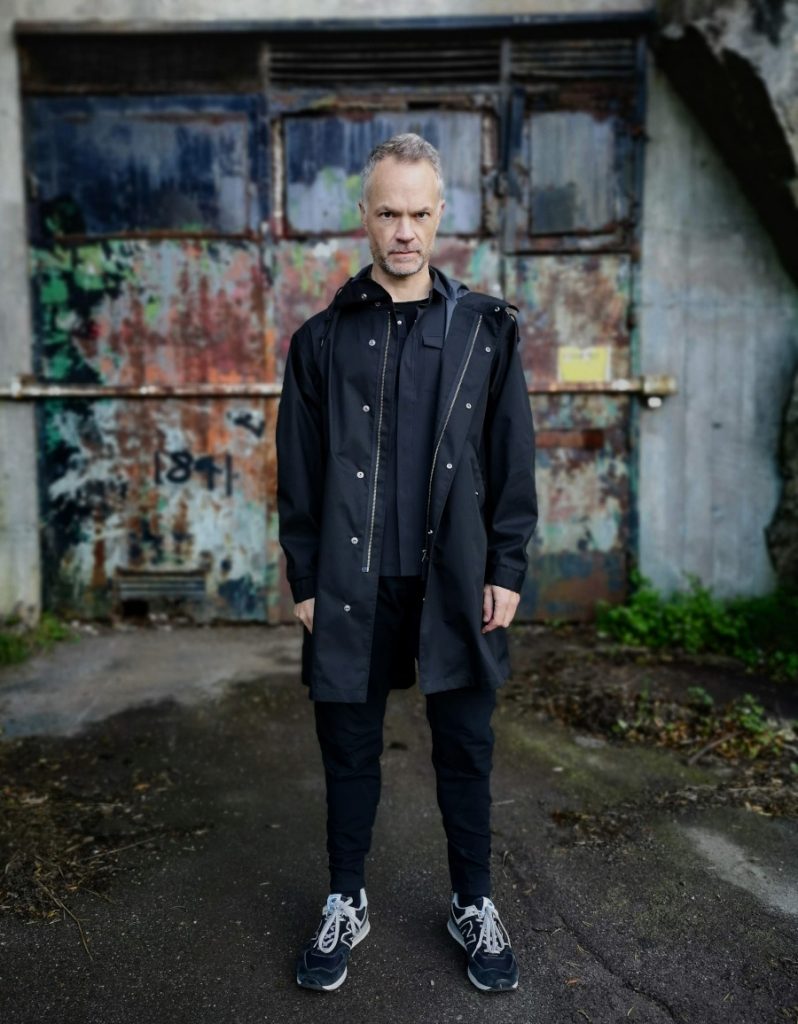 Form: 9/10
The Ameztu (and the P10) is an iconic silhouette, the skinny jeans of techwear. These come in a thick, pitch black Merino Dryskin fabric.
Function: 9/10
Phenomenal winter performance, excellent protection from wind, rain and cold. The cut and articulation allows for unrestricted movement.