A new season of Veilance is upon us, with some promising new pieces, a few controversial revisions and brand new Gore-Tex. These are our first impressions of the Veilance fall/winter collection 2020. By KobeBean and Neo-Grotesque.
New colors: Pluton, Nebula, Dusk, Sediment, Mauve Sand, Drab
Neo-Grotesque: Six new colors! Honestly there's a ridiculous amount of navy/purple shades now with Pluton, Nebula, Deep Navy, Dusk, Mauve Sand, Siltstone and Deep Navy. Meanwhile khaki and green are apparently out. So, there is a ton of shades but not that much real choice. At least all the colors are gratifyingly rich and complex.
KobeBean: This is the most new colors Veilance have offered in several seasons, which is pretty exciting. They're true to the space/Mars theme of 2020 Veilance, and all look interesting. The depth really comes through in person and doesn't photograph well. However, all these new colors make it a little difficult to find the the style/color combination that you really desire.
Kobe: The Partition coat comes in a new materials package, the standard Veilance 3L Gore-Tex shell with a new micro-fleece backer. This material harkens back to the old Monitor SFT, and makes for an interesting combination of a hard and soft shell. It looks like Veilance is trying to up the comfort with this redesign, while sacrificing some utility by removing the hood. I'm not a fan of the FW Partition silhouette (too long and boxy, more of a trench coat), and the lack of a hood really kills this one for me. I wish Veilance had gone all the way with this redesign and used a soft shell fabric (Burly Double Weave?) and the trimmer silhouette of the Partition LT.
Neo: I guess the Partition has been downgraded from rain coat to car coat. It's a neat-looking coat, clean and classic, especially in the new Sediment color. But I can't help but thinking that a three layer Gore-Tex coat without a hood is a mistake. This coat now does not excel in comfort nor weather protection.
Neo: The new Range jacket has a "classic bomber silhouette" according to Veilance. That's crazy talk. It's a short jacket, but it does not have a bomber silhouette. It looks awesome, though. The slanted-flapped front pockets and the exposed zipper give this simple silhouette some teeth. Should make for a very wearable everyday winter jacket, and I would love to see a summer version as well.
Kobe: This is my favorite piece of the season. I love the aggressiveness of the design, and how it still retains Veilance's minimalist aesthetic. This is a worthy replacement for the Field IS, which was starting to look a little dated. When it comes to Veilance's signature insulated Gore-Tex jackets, I strongly prefer Coreloft to down, and the Range has the whole package: Gore-Tex Pro 2.0 and Coreloft "S".
Kobe: Generally Veilance is a few years behind mainline Arc'teryx in utilizing new materials, so it's refreshing that Veilance is adopting Pro 2.0 right when it's hitting the market. It's a welcome update to the Monitor Down. The zipper flap on the other hand I could really do without. The exposed zipper of the Monitor Down was a signature detail, and a nod to Arc'Teryx's vaunted shell designs. I imagine the folks at Veilance are trying to cater to a more mainstream crowd with this design. Note: Veilance.com says that the Monitor Down TW is made with Gore-Tex Pro, which is false. The twill weave Gore-Tex shell uses the same face fabric as Veilance's standard 3L fabric, so the only update to this piece is the zipper flap.
Neo: The Monitor Down is a classic, and now it gets a storm flap covering the front zipper. The flap is a reasonable addition to a coat designed for severe cold. It does make the coat look a little more boring, though. And I have never liked those long slash pockets that make even the skinniest Veilance models look pregnant. The twill version's heathered look just pushes the coat further into normie menswear territory. Time will tell how the new Gore-Tex Pro Most Rugged fares. Word has it that it is more durable and less breathable than regular Pro, which is not necessarily a win.
Monitor IS SL Coat
Neo: My favorite piece this season, on aesthetics alone. This is the minimalist futurism that gets my juices flowing. The shiny trash-bag look of the exposed membrane. The ultralight synthetic insulation. The water-tight two-way zipper… The downside is that the durability of both Shakedry and Coreloft is questionable, so it's a $1,200 coat with a fragile face fabric and insulation with a reputation for losing its loft and warmth in a few years time. So very cool, but it still seems like a more reasonable option to go with the ordinary Monitor SL and layer underneath.
Kobe: I love this piece. The Monitor silhouette is fantastic, and the Shakedry/Coreloft package reminds me of what I love about Veilance: experimentation with the best materials and construction techniques. 3L Gore-Tex and down/Coreloft tends to be overkill for a number of reasons, but Gore-Tex and Shakedry makes a lot more sense since Shakedry is super lightweight and highly breathable. There's something about this piece that just screams classic Veilance to me, and I think it's because it feels futuristic, high-tech, and a little fun and quirky.
Revised Patrol Down Coat
Kobe: The Patrol Down Coat is a real feat of engineering. Veilance went all out with this one, avoiding the typical clunkiness of 3-in-1 coats through their patterning and strategic use of Prym snaps (that tuck away when not in use). New Pro is a nice update for the Patrol, but not enough to sell me on it. The shell is much better than the liner (which doesn't look great on its own and fits a little tight), and the shell itself has some issues. The handwarmer pockets are a little too high and don't look great, the length is awkward, and the sleeve pocket is practically worthless. If the shell was sold separately I'd be interested, but for $1,900 ($100 more than last year), this is far from worth it for me.
Neo: I much prefer the look of the Patrol Down Coat to the Monitor Down. The pockets look better, the silhouette is cooler and the modularity seems great. It gets the new Gore-Tex Pro Most Rugged upgrade for this season, but that is all, so the price hike seems gratuitous. A few more colors wouldn't hurt, I bet this would look dope in Pluton.
Neo: Veilance sure has a lot of jackets to choose from, and here is yet another waterproof down jacket. Although it is a brand new model it's hard to get very excited since it seems so very familiar: a pared-down Node jacket, with Gore-Tex C-knit. Ok.
Kobe: This is effectively a revised version of the Anneal Down Jacket, which is a favorite of mine. I really like the silhouette of the Altus, and it ranks high for warmth-to-weight ratio. I could do without the Gore-Tex (how often do you need a fully waterproof jacket when it's cold enough to wear a high-loft down jacket like the Anneal?), but am intrigued by Veilance's choice of C-Knit with 13 denier shell fabric for this piece. I believe this is the lightest 3L fabric available from Gore, as the shell is basically a ripstop nylon. Hopefully it's about as light and packable as the Anneal. I hope to see a fit pic of this in the Mauve Sand color somewhere!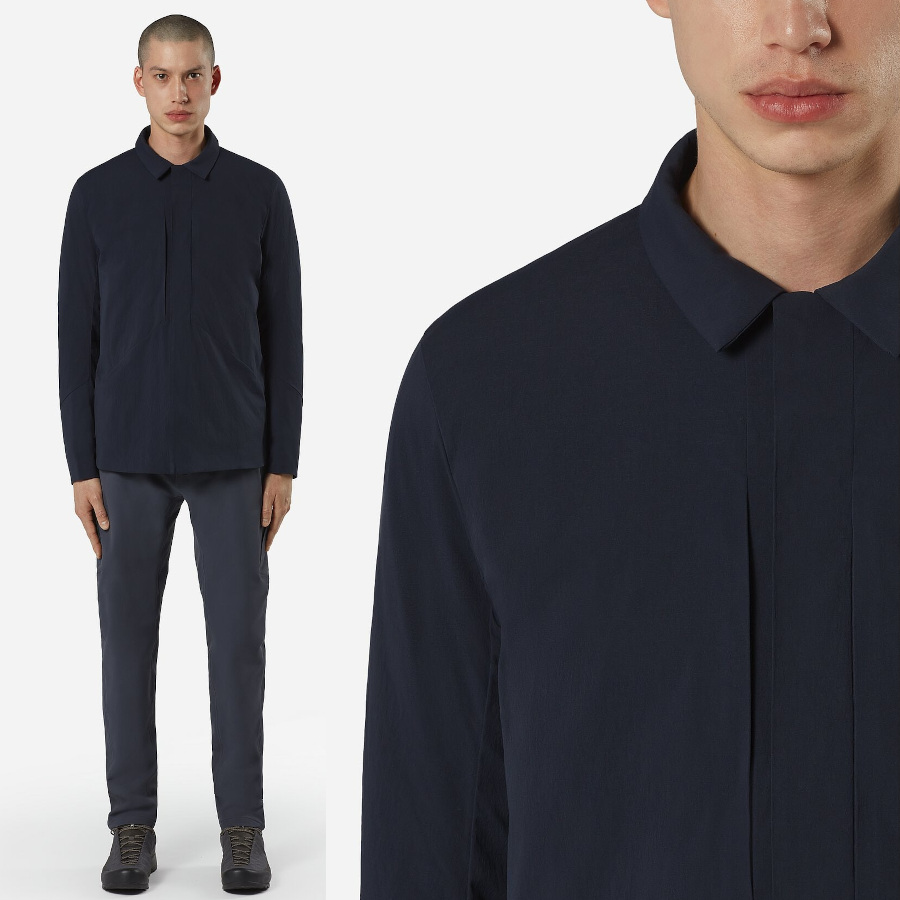 Kobe: This piece has a lot of potential, and I hope it fulfills it. The 25 gsm Coreloft Continuous insulation might hit the warmth sweet spot between a fleece and a more fully insulated midlayer, and a padded, stretchy overshirt sounds really cozy and versatile. The Mionn Overshirt looks to be a hybrid of the Component Overshirt and Mionn Jacket, so it fits a little more like a jacket (long and flares out at the hem), has ample storage, plus stretchy fabric and brilliant elastic cuffs. Hoping this doesn't look too poofy in person and will fit well under shells.
Neo: I am excited about the new Mionn capsule, and this may be the best piece in it. I dearly love my Mionn IS Comp Hoody. Such a comfy, versatile piece for the three colder seasons. Just the right amount of insulation and breathability. One downside though is that it looks funny to wear indoors. This minimalist overshirt overcomes that limitation. If I'm going to nitpick I wish it came in sediment or dusk. The mauve sand color, although pretty, would limit my use of it. Black always works I guess.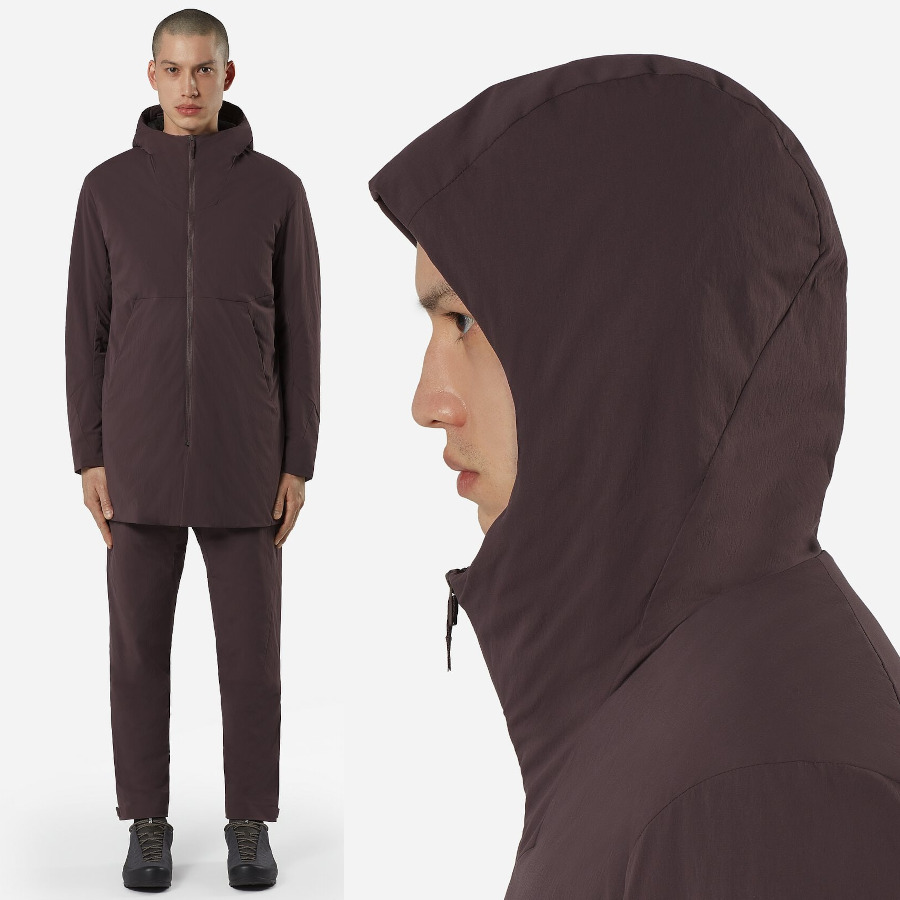 Neo: This looks fabulous in the Dusk colorway. And it's going to be so cozy. If this fits as a midlayer under a Monitor SL that will be a nice, modular fall coat combo.
Kobe: This feels like a bit of a throw-in to me, but I really like how it looks. Interesting that it's slightly less insulated than the Mionn IS Jacket (80/60 gsm vs. 90/65 gsm respectively), which I'm hoping makes it work well as a layering piece under a Navier or Monitor. Looks beautiful in the Dusk color.
Kobe: These pants look promising to me. I appreciate Veilance slowly making pants in more relaxed cuts while maintaining their excellent tailoring. The Mionn Pant should be something like a super light version of a heavyweight cotton sweatpant, if that makes sense. People who run hot may not like these, but they're much less insulated (25 gsm) than your average insulated outdoor pant and plenty warmer than something with no insulation at all. These look very wearable and cozy, but sitting on Coreloft all day makes me a little anxious about ruining the insulation. These should be fine though. Pocketing looks like a paired down version of the vaunted Align MX cargo pockets, which seems appropriate for this style.
Neo: I love everything about these pants. The light Coreloft insulation should make them nice and warm, and having pants that you don't always have to layer under on colder days is true life quality. The tapered shape will work equally well for business casual or for a cold-weather hike. Adjustable waist and hems add a lot of flexibility, I'm looking forward to seeing how these can be styled, and if they can be sized up for an even wider silhouette. If I buy a pair of Veilance pants this winter, these are it.
Neo: The new Stealth Cap is made from Gore-Tex Pro Most Rugged instead of Shakedry, and now it looks like it will actually be wearable outside of leather bars. If you are going to be out in the rain you really should be wearing a hooded rain jacket. But if you're caught out in the new Partition Coat I guess you need this cap. You are paying almost twice the price compared to a Norse Projects Gore-Tex cap, but honestly I think Veilance nailed the simple design here. Maximum minimalism.
Kobe: Hats are in, and a hat made of Gore-Tex Pro is very on-brand for Veilance. Wearing three layer Gore-Tex on one's head without being able to wash and dry it (Veilance says "surface clean only") seems like a recipe for delamination, but the thing looks pretty cool. I'd probably choose the Stealth SL hat from SS20 over this, since Shakedry is more breathable and easier to clean, but a Pro hat is just fun. Pair this one with the Range to complete the Aggressive Veilance Daddy look.