With the Ute pants Hajk try to have their cake and eat it. They create an interesting hybrid urban/outdoors pant in the process.
Hajk Clothing is a new Swedish brand for urban wear with outdoors vibes (or possibly the other way around), an in-between brand that hopes to bring you the best of both worlds. But do they deliver on their ambition to create "everyday clothing made for extraordinary adventures"?
Hajk kindly sent me a pair of Ute Pants a couple of months ago, and I have been putting them to the test indoors and outdoors, in urban contexts and in the wild.
Uncommonly skinny
What piqued my interest about the pants was their slim, contemporary yet rugged look. While many brands go for wide silhouettes for their outdoors, "gorpcore" influenced looks, Hajk cuts these pants skinny, with a bit of stretch and articulation to improve their functionality.
The color is a nice brownish green ("urban green" according to Hajk, or basically "RAF" if you speak Acronym) and there is contrasting black detailing by the zippers, pockets and hems. There is a black version too, but I like the more visible detailing on the green version, particularly the zippered pocket on the right thigh: the black vertical stripe is a pleasing graphical element.
Awesome pocket asymmetry
These are six-pocket pants with an awesome, asymmetrical pocket layout. There are two slash pockets on the front, of decent size and mediocre functionality. On the left side there is a small, hidden key pocket closed with a zipper. On the right thigh there is a big zippered pocket with an internal phone drop pocket. Lastly there is a zippered back pocket, which I have yet to use.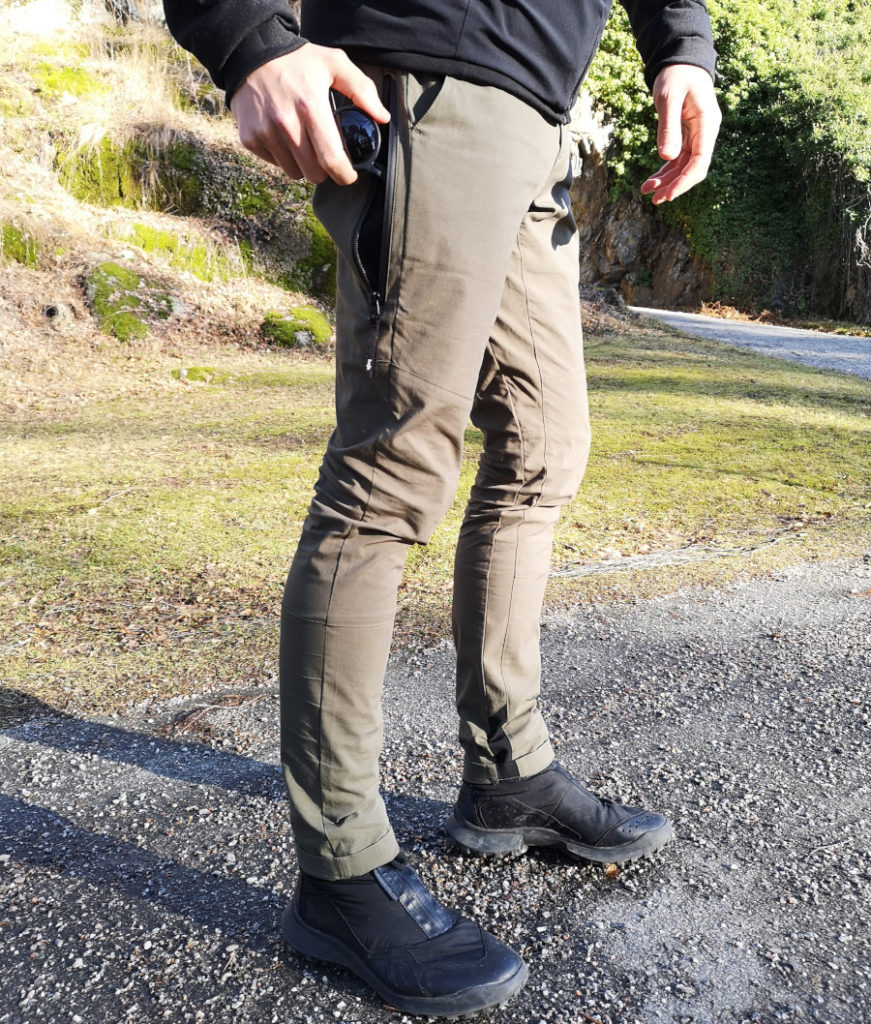 The big side pocket is my favorite, useful for storing a phone, sunglasses or wallet. The contours of a phone are clearly visible on the thigh when carried in the pocket, but at least it sits tight and does not get in the way whether standing or sitting. The key pocket is a nice touch and great for sticking you car keys in, at the price of a lump in your silhouette. I tend to forget about the key pocket and put my keys in the front pockets, which work adequately.
Belt loops are nice to have, and there is also an internal waist band that you can pull to the desired width and attach with buttons – common feature on children's pants. It felt tacky at first, but it does add the option of sizing up for a slightly more roomy fit.
The silhouette / utility trade-off
The cut of these pants is their main draw but also their undoing. First of all, the sizing is unusual. I am a solid size 30", 46 or S in bottoms, but in the Ute pants size 46 is somehow size XS. This is the first time I have worn XS in a pant, but it is definitely the correct size. At least for the waist.
Below the waistline, things are not as clear-cut. For such skinny pants the crotch/upper thigh area is pretty roomy. This means your groin area is more comfortable than it would typically be when squeezed by skinny denim, and that the front pockets are actually useful. But there is a cost to the silhouette, which gets slightly top heavy. Meanwhile, the rest of the thigh and calf is so tight that it shows off the shape of your leg.
These are the type of pants you often notice that you are wearing, especially if you are used to looser cuts. It is not too much of a functional annoyance, as there is added fabric for the knees which makes sure you can sit down without the lower part of the pant legs riding up your calf.
Some bad news
Fluorocarbon free DWR is good for the environment. It is also sometimes bad for functionality. Spilling just a few drops of coffee on these pants showed me that their water repellancy is negligible. The liquid was immediately soaked up by the fabric and, curiously, the small stain would not even come out in the wash.
This is bad news if you want to use these pants for extended outdoors activities, or even commuting, as the fabric (62% cotton, 34% polyamide, 4% elastane) – while definitely better than denim – is by no means amazingly quick-drying.
The pants breathe well enough that wearing them for a summer day in the city is fine. I would not recommend using them for hiking, however. The tightness can cause some discomfort, and even if the pants do not chafe they will rub the hair off your legs.
Conclusion
I like the idea of this slim-cut technical pant, but I would prefer them to be slightly less skin-tight for a cleaner silhouette, less bulging pockets and even more comfort. It is possible that sizing up would be preferable, as the adjustable waistband should allow the waist to be cinched in.
Looking at the pattern and the detailing of the pants, you are getting some great construction for your €100. This is a nice pant, and a great first pant from a new brand. I am looking forward to see how Hajk's collection evolves.
Form: 7/10
The slim cut looks good, as long as you do not carry too much in your pockets. Color and detailing is attractive. These pants look the part equally when camping in the woods or sipping a macchiato on the piazza. You might consider sizing up if you find the silhouette too skinny.
Function: 5/10
Great pocket layout and neat patterning throughout. The slim cut makes carrying objects in the pockets somewhat awkward. Unfortunately the DWR is non-functional.