Dystopian aesthetics, high-performance fabrics and secretive operations – Enfin Levé has carved its own niche in techwear scene. Now, for the first time, its elusive founder speaks about the brand's secrecy, its creative process, and its controversial inspiration from Acronym.
Michael van Diem, the founder and lead designer of Enfin Levé is a hard man to pin down. Deliberately staying out of the limelight, preferring to let his designs do the talking, there are no photos of him to be found, nor any substantial interviews. Until now.
While still dodging some of my more personal questions, he agreed to an interview for TCHWR.com.
"We live in a world polluted by cybercontent and at this point I don't feel that my face should be a distraction from what we create," he writes in an email.
Since first appearing in 2012, Enfin Levé has made a lot of fans in the techwear fashion scene. Positioned as a high-quality made-to-order brand – more expensive than Nike ACG, more affordable than Acronym – it appeals to techwear enthusiasts appreciating top notch materials combined with utilitarian designs, liberating cuts and dystopian vibes.
But Enfin Levé has made some enemies too.
Bring up the brand in an online forum for techwear enthusiasts and some die-hard Acronym will proclaim that Enfin Levé essentially built their oeuvre on Acronym's pioneering work. These critics tend to harbor territorial instincts, frustrated that another brand is making more affordable clothes in high-tech materials, encroaching on what they perceive to be Acronym's turf.
The two most common criticisms of Enfin Levé is that they (i) copy designs from Acronym and (ii) lack a unique, cohesive design direction.
The latter claim is easy to dismiss just by browsing Enfin's campaign footage for any of their latest couple of collections. You will find a crystal-clear aesthetic vision, forged by Enfin Levé and turned into imagery by photographers like their long-time collaborator Daniel Korzewa. What Enfin Levé undeniably lacks, however, is a strong voice spelling that vision out, as its founder and lead designer has chosen to stay anonymous. We will return to claim (i), but let's first try to answer the question:
Who is Michael van Diem?
"I grew up in Southern Poland surrounded by mountain landscape. As a kid I spent my time snowboarding, later on on a competitive level for a while. It had already started back then, when I was thinking about the functionality of my snowboarding clothing, how it performed, how it looked and how it could be improved; that early stage of my life was definitely a strong foundation for what we do now."
When I ask if Michael van Diem is his real name, he ignores my question. Neither will he give me his age. He tells me he enjoys travel, learning new things and doing Muay Thai, although all of those activities have been difficult these past few months due to the pandemic.
Prior to founding Enfin Levé, he says he studied pattern making and later worked for an avant-garde designer. He declines to tell me which designer he worked with, but notes that moving on to create his own brand was not intimidating at all, but a "natural outcome" of where he found himself.
"I was never able to work under someone in the long run, so it was the only way I could see myself working in the future. And when you're young and don't know what hardships you will have to endure as a brand along the way it's also easier to make that leap of faith."
The earliest surviving traces of Enfin Levé's founder is a few postings on the forums Stylezeitgeist and Kanyetothe back in 2012, when the brand launched its first collection. Back then he called himself simply Van Diem, and proudly presented a small collection consisting of just four pieces:
"Coming from Europe, founded to introduce high end couture pieces, a manifest of new quality, aesthetics and elegance."
A year later he was back on Stylezeitgeist, with a new collection that adhered to more of a techwear ethos:
"For this season we focused a lot on performance fabrics – all the coats and one of the pants are made of waterproof technical Swiss cotton, shirts are made with climacool fabrics, merino wools, elastic Swiss poplin blends, etc."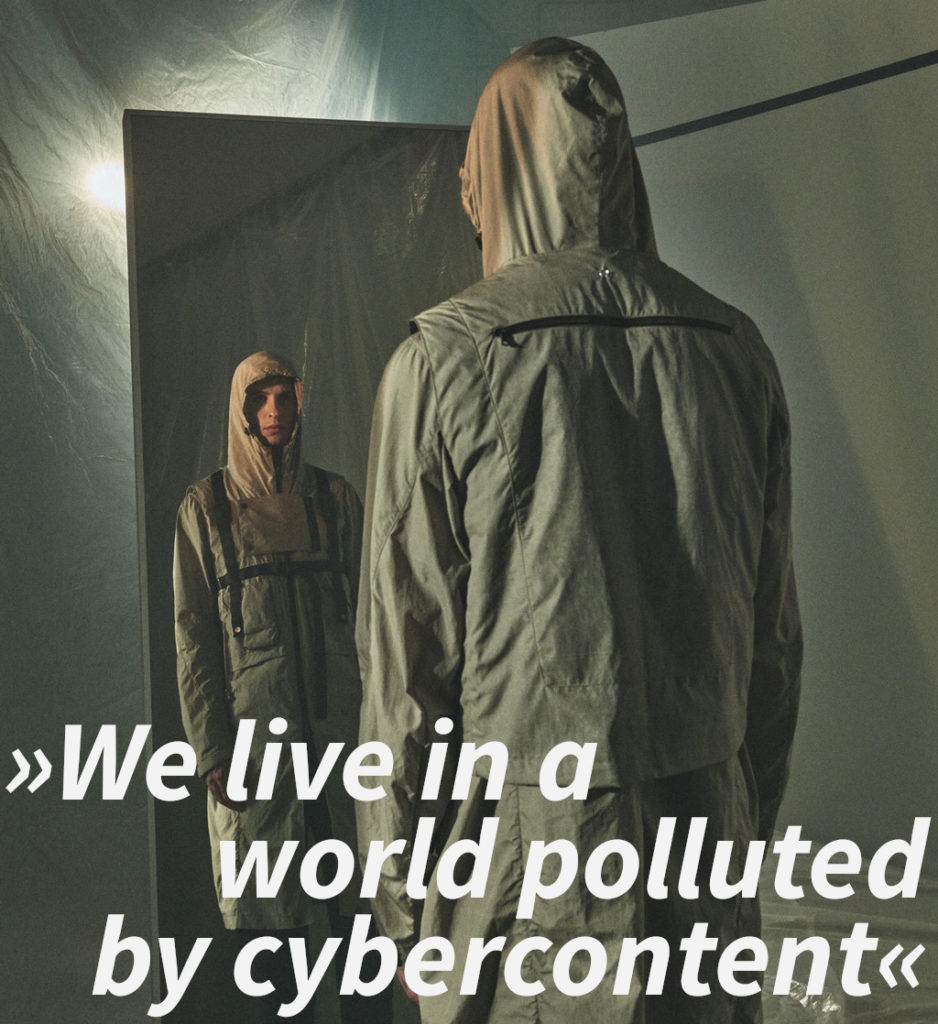 "Everything started with a simple goal to make the best possible clothing with what we had available," Michael van Diem writes to me now, many years later.
He started Enfin Levé surrounded by friends who shared his vision, a creative collective that set to work not knowing exactly what to expect. When the collections moved toward the techwear space, some inspiration undoubtedly came from brands like Acronym and Guerrilla Group.
"The project has evolved through the years, and the resources available to us at the moment are of course much greater than they were eight years ago, but the foundational idea is the same: to make the best pieces we would like to wear ourselves and make them available to the public."
What makes a truly great piece of clothing?
"Clothing is truly great if it makes you feel strong, powerful and protected from rough conditions. The perfect garment should be a compliment to ones self-confidence."
Do you feel that Enfin Levé has moved from darkwear toward techwear?
"The darker side is still there. Everything evolves around us and our work will always be a reflection on that, changing from collection to collection."
So how did you end up in this niche of futuristic aesthetics and high-performance fabrics? Were you into sportswear? Sci-fi/cyberpunk? Sportswear? Was Errolson Hugh's work an influence?
"I can't say sci-fi/cyberpunk games or films were a huge influence for me. The futuristic element to our work comes from our own interpretation and prediction of the future, influenced by various sources of inspiration. Architecture, nature and interiors are an endless source of inspirations for us. History, military, snowboarding and BMX culture had a big impact on the outcome, combined with different moods created by music and spaces I surrounded myself with."
Music, it turns out, is a particularly important part of Michael van Diem's life outside of Enfin Levé. He lists an eclectic mix of genres he resonates with – industrial rock, prog, techno and hip-hop. He plays guitar and drums himself, and messes around with electronic music.
Van Diem's musical passion shines through in the collections. Alongside all of the functionality and futurism there are allusions to dance and architecture, and also a decadent beat – a hint of sex, drugs and rock'n'roll. But Enfin Levés storytelling begins and ends with imagery, and the clothing itself.
Many companies go to great lengths to establish a story about the brand, the founder and the lead designer. How come you are staying out of the limelight?
"Enfin Levé is a collective. Although I am the founder I never wanted to put myself in the spotlight, and I always admired creatives who let their work speak for itself. We live in a world polluted by cybercontent and at this point I don't feel that my face should be a distraction from what we create. We paint a story with our visuals, our garments and with the amazing people that choose to wear them."
Your campaign photography is always amazing, with a strong science fiction vibe. What is the creative process like there?
"For the photoshoots and films we always start with a location that fits the collection best, then we build a moodboard for the story we would like to tell. Shooting the visuals is a very rewarding moment; after many, many months spent in the studio and countless hours of stitching and testing we can finally see the complete story, the garments come to life in an environment we imagine them in when designing. The science fiction vibe you mentioned is an outcome of that, rather than something we specifically aim for every time."
Enfin Levé's designs often look like clothes for going clubbing in a dystopian metropolis, beading off the acid rain as you wait in line. For customers living in this actual world, though, the use cases are more varied. I personally find my Ameztu pants in merino-backed Dryskin excellent for cold-weather hiking.
What use cases do you primarily have in mind while designing?
"We always have an image in mind that we express through our photo and video campaigns. However, the final goal of the garment is to take on a new life and embark on a unique journey with its owner. That is always exciting to us, we love seeing our pieces used cohesively outside the surroundings of the story we tell through our visuals."
You must run into situations where you have to choose between prioritizing either performance or aesthetics. How do you manage those decisions?
"Our entire goal is to make garments with certain aesthetics, using special finishes and dyes, however it never comes at a cost of functionality; if it does, we drop the idea. The entire challenge is to work around the problem to avoid compromises."
Which of your pieces are the biggest hits among your customers?
"It's a fair split among many product categories. Different pieces are appreciated by different customers, there is a large customer base that is always on the lookout for the most experimental and unique pieces from our range, and there are clients that prefer simplicity over innovation. In any case we always do our best to share advice with our customers about which products would work best for them, and would make them feel strong, look great and help overcome their daily obstacles."
This approach does not only mean working with proven performance fabrics like technical twill, Dryskin from Schoeller, and Etaproof cotton from Stotz. Enfin Levé likes to experiment with luxurious materials like kangaroo skin and fabrics woven with aluminium or silver.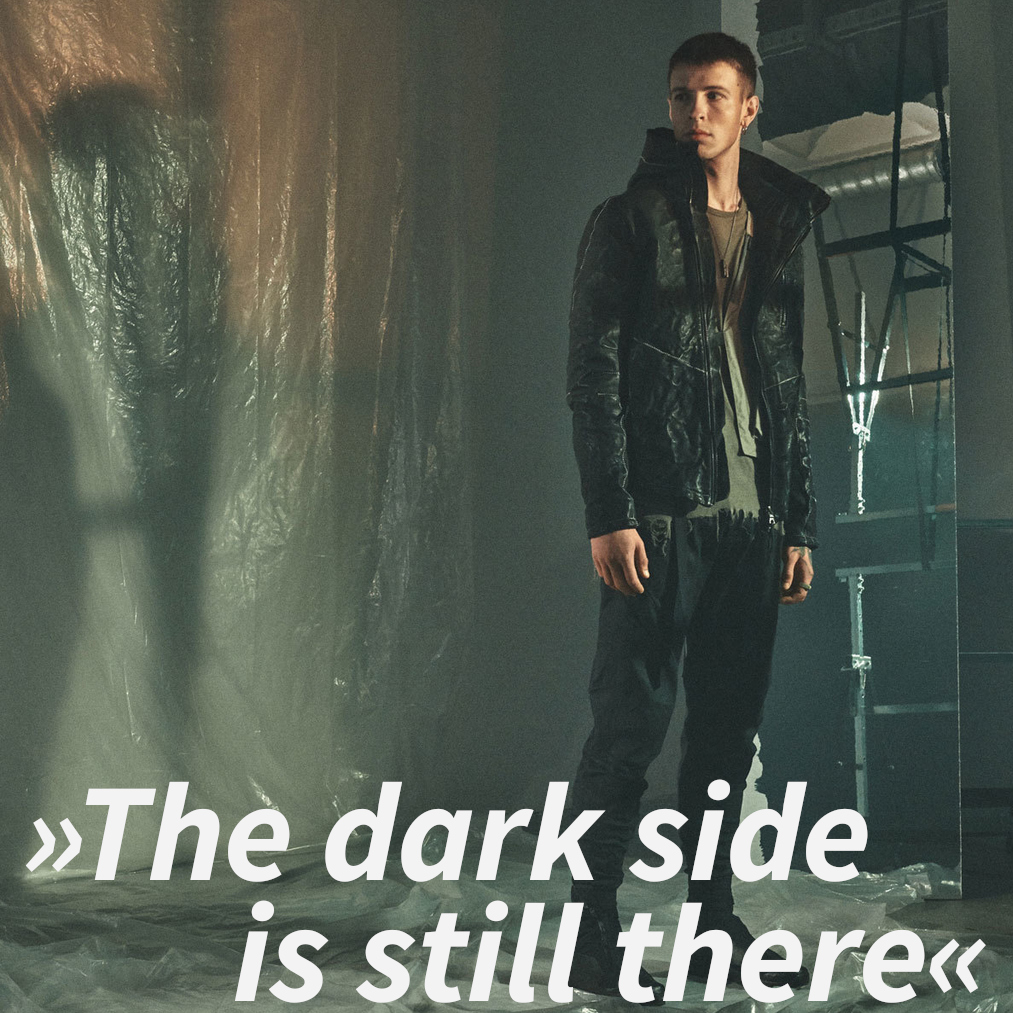 What have you learned by working with these materials?
"The metal fabrics that we love experimenting with are unpredictable, without a doubt the most difficult to work with. The result, however, is very rewarding and those fabrics age nicely with time. Every material is different and will require stitching many trials using dfferent machines, needles and cutting equipment to reach perfection. But that is also the exciting part, every new idea we bring to the table comes with a new challenge that keeps us excited about what we create.
Still, you hit a more affordable price point than Acronym, even when using the same materials. How do you balance quality and price?
"It's a difficult equation. We always wanted to keep all the production in Poland and Germany, and source the finest fabrics from different corners of the globe where the expertise is the greatest in their respective fields: leather from Italy, performance fabrics from Switzerland, jersey and denim from Japan. That ramps up the cost, so the only way to offer what we make at a fair price is to keep our margins at a minimum. With a small production capacity and and artisanal approach to production we can only be present in a limited amount of retailers.
Enfin Levé's main point of sales is its own web site. By making the garments to order there is little stock, which decreases the business risk. For customers this made-to-order strategy has its advantages as it means you can get garments customized for your measurements. The downside is that the time from placing an order to receiving the clothes is typically around three weeks.
Enfin Levé is currently an eight person team working full-time on design, sampling, production, order fulfillment and day-to-day operations. For web and visuals they collaborate with freelancing creators. The brand is head-quartered in Berlin, also home to Michael van Diem and to two of the stores Enfin Levé works with: Firmament and Darklands-x. As it happens, Berlin is also home to another major techwear brand. The one that pioneered the field and, while drawing inspiration from predecessors like Vexed Generation and CP Company, arguably birthed the entire fashion genre. Errolson Hugh's Acronym.
Acronym fans like to point out that Enfin Levé sometimes borrows features from Acronym pieces. The most often cited example is the popular Ameztu pant, which is similar to Acronym's P10. While Enfin Levé offers a lot of garments that are unrelated to designs created by their Berlin neighbors, some of their most popular pieces definitely seem inspired by Acronym. Michael van Diem does not deny it.
How much inspiration do you think it is ok to take from other designers, and how do you work to create your own original design language?
"What we do is we constantly strive for perfection. If there is a good solution to a technical problem that already exists and we feel it is a solution that will contribute to the creation of a great piece of clothing, we will follow that idea. We will build something new upon it and hopefully improving it, putting it into the mix of different ideas and contexts. It could be an element introduced by another brand, a World War I uniform or a pant I used when riding BMX as a kid. If the use of a certain element doesn't sit well with someone, we fully respect that. Acronym undeniably started a niche and a design language that a certain area of our work is also a part of, and we seek to prove ourselves and find our own voice. To be acknowledged is a process that takes a long time, and takes presenting a large and complete body of work while staying humble and respectful."
Right now both activewear brands and mainstream fashion brands are flirting with techwear – how do you see the niche evolving in the coming years?
"Many solutions that are claimed to be innovative today really were innovative fifteen years ago. Since then they have become the industry standard and there is no shortage of quality products following the design principles rooted in sportswear. The use of Gore-Tex, Schoeller fabrics and other high-quality technical materials is very widespread and has been used by mainstream clothing brands for years now. It is a very natural response to our human needs. Those fabrics are the best fabrics available at the moment and I would be surprised if things didn't shift further in this direction. I'm always happy seeing new brands and small projects of individuals that push ideas forward."
What news do you have for us in your autumn/winter collection for 2020?
"We can't say much yet, but it will be our biggest and most elaborate collection to date, with a big surprise coming."
Michael van Diem will not be coaxed into saying more than that. But as I finish writing this piece a story pops up on Enfin Levé's Instagram:
Collection XV
Coming soon
And then there is a solid hint at what the big surprise might be. After fourteen seasons of dystopian menswear, the model in the Instagram story – decked out in a black, high-collared vest embellished with an impressive techwear array of straps, zipper pulls and fidlock buckles – is a woman.