The Nomin from Veilance is very strange, very beautiful and very expensive. Could it be the ultimate urban backpack?
So often with Veilance, it is not readily apparent from product pictures what sets their products apart. It is not until you slip your arms into the sleeves, pull up the pant legs or do up the zipper that you get it.
Oh. This. This is something else.
I had always had my eye on the Nomin – it's an undeniably beautiful design, clean and austere – but I did not fully get what all the fuss was about. I mean, that price. So I was excited when Veilance sent me the pack to review and I got to pull the bag out of its box to experience it for myself.
First impression: So… this is unexpected. The Nomin may be an €800 backpack, but the feeling was less that of any recognizable version of luxury and more that of an artefact from the future. It feels very synthetic, light for its size with a surprising rigidity that comes not only from its backplate and laptop padding, but from the nylon fabric itself.
Aggressively mute
The fabric is called AC2, and it was developed by Arc'teryx for use in lightweight, durable and weather-resistant backpacks. It is not a particularly lightweight fabric in itself, certainly if you compare it to a backpack material like Dyneema, but the properties of AC2 allow backpacks to be constructed with lightweight techniques (minimal seam allowances, precision seam-taping, textile fusing) while still being rugged and weather-proof.
Minimalism is the name of the game here. The Nomin is aggressively mute, extravagantly devoid of ornamentation, conspicuous because of that absence in the same way as a face without features.
In a word, it feels alien.
The minimalist approach means many common features of daypacks and commuter packs are missing. There are no bottle holders, no mesh pockets, no sternum strap or dangly bits. There is a practical top handle, but it is blacked out and shifted toward the back of the bag so as not to compromise the silhouette. The one thing that disturbs the oval shape is the zipper pulls. Plain black nylon of course, but adding some small fringy bits to the form. Unless you are a true hardcore minimalist and remove them, foregoing their practicality.
Fancy backpack dilemma
There's this concept I call the fancy backpack dilemma. You can make a backpack as beautiful and luxurious as you want – it will still be a backpack. That is, it belongs to a category of objects that by their nature will never be as elegant as a nice briefcase or messenger bag. The category of the backpack belongs squarely to the functional, the geek, the hiker, the street kid.
This is the first backpack I have used that overcomes the fancy backpack dilemma, and it does so by virtue of its minimalism and its carefully considered pebble shape.
An important role in the overall appearance is played by the shoulder straps, the one part that is always visible to people you face. Like the bag in general, the straps have been pared back as much as humanly possible. There are adjustors, but they are hidden. Even the stitches are hidden on the side of the straps, making the straps climbing over your shoulders as clean as you can imagine. Compare them to other high-end, minimalist bags and the Nomin is in a class of its own in this regard.
The straps are highly functional too. Even though the bag lacks sternum or waist strap, the shoulder straps do a good job of distributing the load, and thanks to these wide, curved straps and the overall rigidity, the bag sits calmly against your back with minimal bounce.
If you are into minimalism, there is nothing like the Nomin. It is the ne plus ultra of its genre. You can wear it with a suit and look great, with your Acronym Gore-Tex jacket or with pretty much anything you like. This is a backpack that will not detract from your outfit; chances are the purity of the Nomin's design and the exactitude of its construction will elevate it.
Zero leakage
Even internally, the Nomin's features are severely pared down. And on the inside this does come with some functional compromises. There are two main compartments: a big empty front compartment and a padded back compartment for holding flat items like laptops, Ipads, books and documents. The back compartment hides a divider and a document holder, that neatly holds whatever you stick in there. I have carried a 14 inch laptop, a folio size art book and a bunch of papers in there with room to spare. It should fit a slim 15 inch laptop easily, along with any folders or magazines you need to carry.
Because of covid I haven't worn the pack for travel or daily commute, but I have packed it in different configurations and carried it for lengthy walks. The front cavity easily holds a puffer jacket and a Field LT shell. It swallows my professional edc like it's a tiny snack. In scientific terms: it's big. And even when I pack the bag with some seven kilograms of assorted clothes and gadgets, it carries comfortably enough that I forget I'm wearing a backpack.
The zippers are specced as highly water-resistant, their taut construction is reassuring and I have experienced zero leakage in rain. Unzipping the main compartment will open it almost to the bottom of the pack, not quite allowing you to fold it over completely but providing excellent packability and overview of the contents. The back compartment, however, only opens on the right side of the pack. The zipper continues over the top, but on the upper side you will find a separate pocket, opened by that same zip. This is another elegant solution, but it comes at the price of poor visibility into the back compartment, so you better make maximum use of the divider and textile flap that allows for some organization.
Elementary purity
There is another little pocket on top of the front compartment. It's different though, a floating pocket with its own zipper and a keyhook inside. I wish there was some further organization within to keep a pair of sunglasses or a phone safely away from my keys, but no such luck. No nifty little subcompartments that could be used for pens, notebooks, pills, batteries and other stuff I want easy access to either; for my personal use case I would count this as the main flaw of the Nomin. Everyone has their own organizational needs, and the amount of organization in the Nomin will be perfect for few of us, instead it prompts you to adjust to the simple but spacious layout, or add extra pouches as you see fit. (Veilance does not sell any – yet.)
Even though the internal organisation is sparse, I look forward to traveling with the Nomin as my only bag. Since almost the entire front of the bag opens, items are easily accessed. The space inside the front compartment should be plenty enough for a few days worth of clothes – especially if you stuff it full of lightweight Veilance garments. But more than that, I look forward to wearing it as a cool, black accessory.
The French author Antoine de Saint-Exupéry famously wrote that perfection is achieved not when there is nothing more to add, but when there is nothing more to remove. In that sense, the Nomin is a perfect backpack, an obsidian pebble, a reduction of all the backpacks that came before it into what Saint-Exupéry called "elementary purity". I have recalled that passage from Saint-Exupéry many times while using the Nomin. The French author describes how the shape of a modern airplane – or anything that man builds – through the meticulous toil of generations of designers is eventually distilled into something resembling the simple curves of nature, guided by the "ultimate principle of simplicity".
That's how I see the Nomin, as the culmination of generations of backpack designs in an artefact fusing pure simplicity and cutting-edge technology. After wearing it hard for a couple of weeks, I get it.
The Nomin backpack is quite expensive. €800 on the Veilance site, although if you're patient you can sometimes find the ash colorway on sale. Veilance kindly sent me this pack to review, but if I had to send it back tomorrow I would instantly order a new one. If you want the most refined minimalist urban pack, there is no substitute.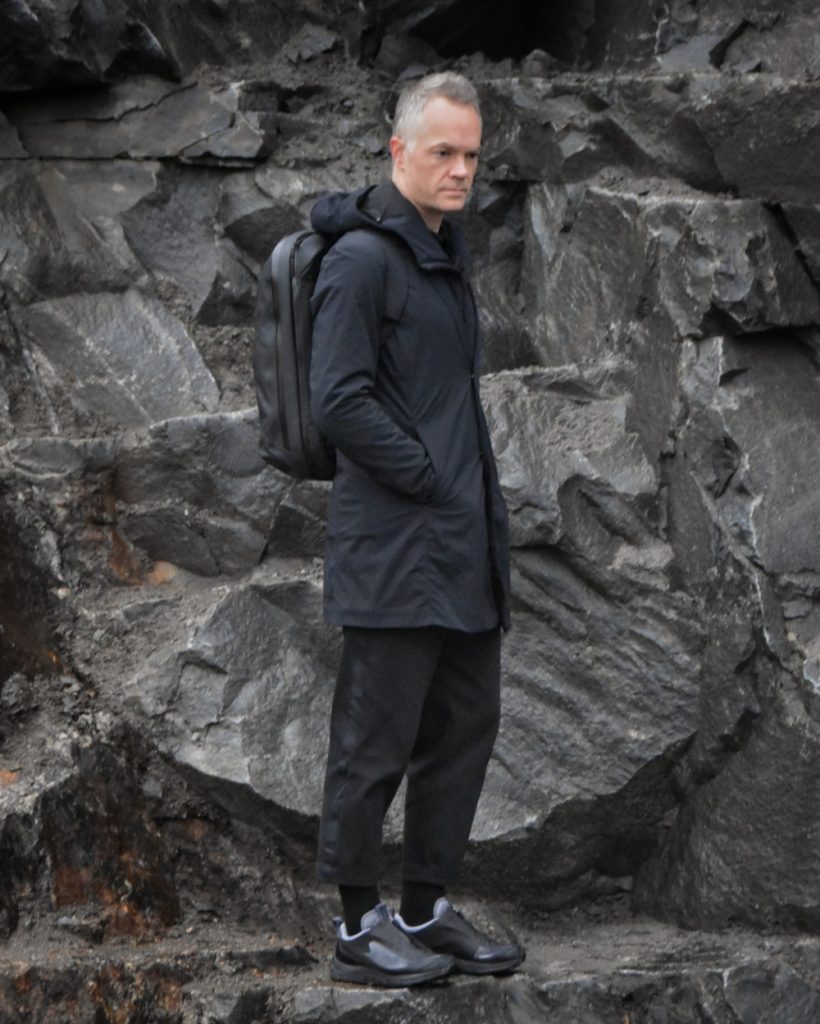 Form: 10
Numinous minimalism. Elemental purity. The Nomin is a backpack reduced to its essence.
Function: 7
Light, rugged and comfortable. Excellent for carrying laptop and documents. No bottle holder and limited internal organization.