Few pants successfully hit the intersection between office, coffee shop and street hustling. These are a comfy and affordable exception.
After reviewing the Buckle Trench from Taiwanese label DYC Team earlier this fall, I was curious to try one of their pants. Hong-Kong based web store Shellsoul was kind enough to send me a pair of the Wide Tapered Pants, and I have been wearing them a lot since I got them.
If you are used to the ultra-wide silhouettes of Acronym or Hamcus, these are not really wide pants. Cropped Pleated Pants would be a more accurate moniker. Compared to a pair of regular chinos, however, they have an ultra-modern, street-influenced silhouette.
Wear with wool
The medium size sits just right on me (I'm normally a small / 30" / 46 in pants) and they are quite roomy in the crotch. Sitting on my hips they have a slight drop crotch, and the generous upper tapers to a small but not tight leg opening that hits just above my ankle.
Cropped pants like these are a bit like tabi shoes. When you get your first one you need to invest in some new socks, at least if you are to wear them in cool weather. Although these pants end well above my shoes, I have worn them in temps down to freezing, with knee-high wool socks.
The fabric is a substantial gabardine, mixing cotton (83%), wool (15%) and spandex (2%). At 574 g, these are not lightweight pants, but clock in at a weight similar to a pair of denim jeans. They are not seam taped, but Scotchgard treatment offers some protection against dirt and weather. It does not protect against lint, however. This pant is a dust magnet, something that is mostly visible in up-close photos.
Simple and effective
Overall, the feel of the pants is great. The material is a well-balanced combination of heft and stretch, offering some warmth along with excellent freedom of movement. The pants stop just short of the luxurious feeling of no expense being spared. The stitching is good, but not immaculate, and nice details like seam taping and knee articulation are missing.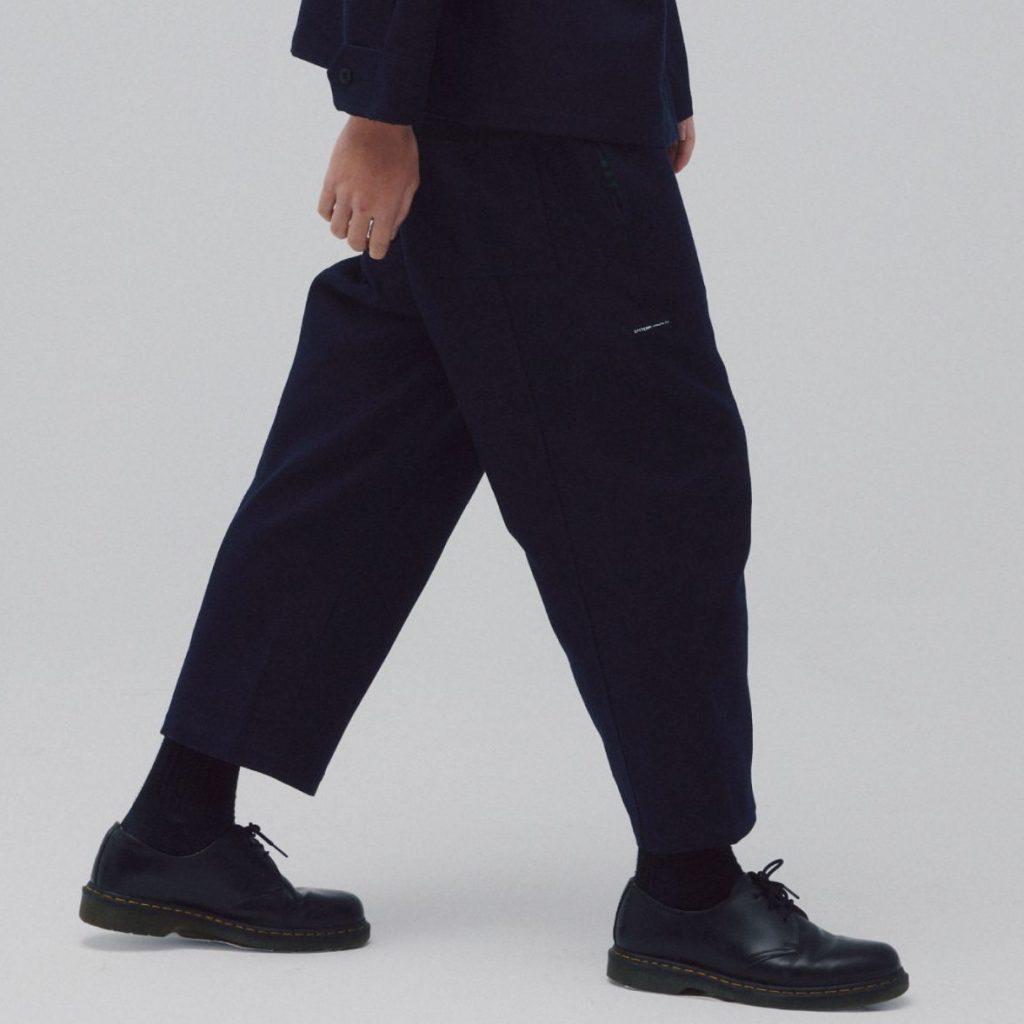 Personally, I don't care much for seam taping on pants. While it adds a sensation of smoothness, it is also an additional point of failure. There are many stories of Veilance pants with tape coming unglued. Knee articulation, however, is something I do miss, particularly when sitting down as I feel the fabric pulling toward my knees.
Two front pockets and two back pockets with no flaps, zippers or internal organization makes for a simple set up. I personally wouldn't use this type of back pocket for anything more cumbersome than a receipt or a discarded Snickers wrapper, but I can't do without good front pockets. These are spacious and nice, I never worry about my phone falling out. A fifth pocket would be appreciated, however, to keep keys safe without worrying about them scratching other contents of the pockets.
Dressing up or down
DYC has nailed the silhouette of these pants. They occupy a great space inbetween smart and relaxed, street and sophisticated. The pleats, chino-esque shape and substantial fabric lend a sober touch that can be dressed up with a nice shirt or a blazer, while the loose-fitting top and tapered leg make sure the pants look great with just a t-shirt as well.
These are clean pants with few embellishments, but there is a bit of detailing when you examine them more closely. The side stripe is a slightly shinier black, with a subdued tonal pattern including the brand logo. Tasteful and fun, not noticeable to anyone but the wearer. Another detail is a thin strip sewn into the side of the right thigh, numbering the garment within the limited release. Mine is number 028, while my trench coat ws 031, which gives an indication to the scale of the production. Nice touch, but I would have preferred to have it on the inside, visible only to me.
The cropped length asks you to consider your footwear for neat PSI. I personally like wearing the pants with minimalist low sneakers, like the blacked out Nike Epic React in the pictures. A slim, black boot would look cool too, or why not a pair of dress shoes.
As I mentioned initially, I have been wearing these pants a lot. They are comfortable and much easier to wear than ultra-wide pants that fall to the floor as soon as you unbutton them. Most importantly, I feel both comfortable and cool when wearing them. In short, they are an addition to my wardrobe I didn't know I needed, but am very happy with.
The Wide Tapered Pants from DYC Team can be found at Shellsoul.com for $133 which, quite frankly, is a killer price point.
Form: 9
Sharp yet relaxed tapered and cropped silhouette. Works well for dressing up or down.
Functionality: 7
Excellent front pockets, no knee articulation. Stretchy and substantial fabric with DWR make the pants appropriate for fall and spring.