Clean cut, stretch and taper makes for a solid if not spectacular pair of warm weather pants.
Outlier is a true grayman brand, focused on functionality with a clean, modern aesthetic. As such it is curious that it has spawned a following so devoted it borders on cultish. I am not yet part of the cult, the Futuredarts are my first pair of Outlier pants, and I have been wearing them for a couple of months.
Fabric and style
The Futuredarts are made from a light and stretchy 200 gsm 97% nylon, 3% elastane canvas. The weave is breathable and slightly coarse, not as smooth as some synthetic pants. There is a bit of a swooshy sound to the fabric, but nothing you really think about while wearing them. The light water repellency helps keeping you dry whether you're walking through a drizzle or spilling something in your lap. In a downpour they soak pretty quickly, however. Luckily they also dry quickly once you get inside.
The seams on my pair are all neat, and the button securely fastened on a ribbon rather than threads. All in all, the high quality construction was apparent from the very first time I put the pants on. However, there is a blemish on my pair: a tiny "wart" on the fabric on the right front pocket. It is hardly visible but instantly noticeable when I run my hand over it, and a possible point of further deterioration after more wear and washing.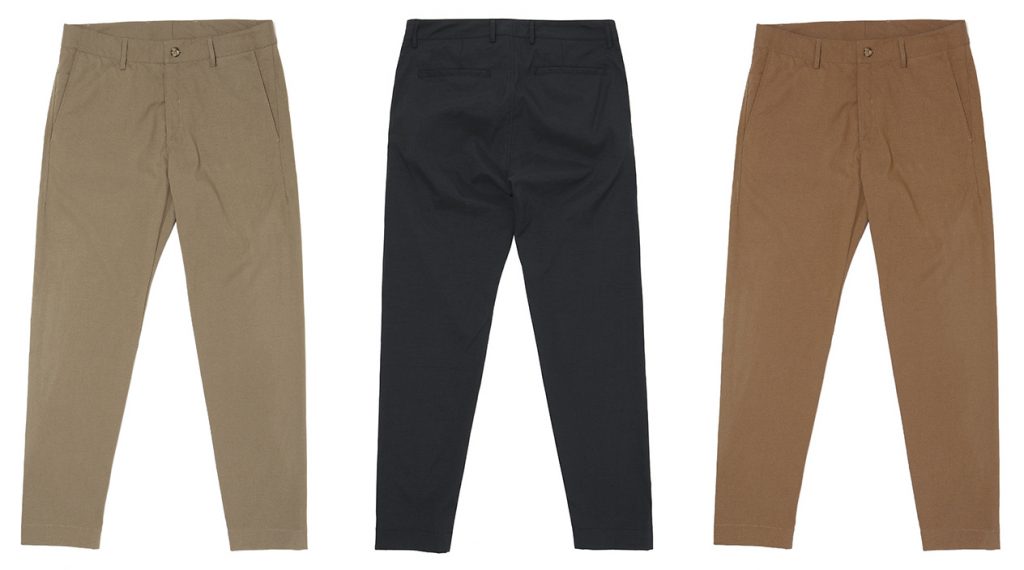 Size and fit
The Futuredarts sizing is on the larger side. I got size 30, which is my true size, and they are too loose around the waist. On the Outlier subreddit (a great source of info) people are suggesting going down one or even two sizes for the correct fit. As always, this depends on how you like to wear your pants. These are not ridiculously big around the waist by any means, just big enough that I need a belt for them to sit snugly where I want them. They are roomy from the knees and up, and fit me snugly by the ankles. The pants get their name (and good looks) from this construction, being built with long darts instead of side seams, for a modern, tapered fit.
Though the Outlier website does not explicitly call the Futuredarts articulated, they do seem to bend slightly at the knees. I wear my Futuredarts slightly higher on my waist than usual, to get the knees perfectly aligned with the cut. The roomy crotch and oversized waist make these adjustments easy, with the help of a belt. While the fit can look slightly sloppy when simply standing around, it is great for movement as well as when I am sitting down and the pants are fully stretched out, bent at the knees.
The pants are sized by waist measurement and come in a single inseam length. However, the doubled up hem can be turned down 3.8 cm to add length; a nice touch that makes them more accomodating for different body configurations.
Features
The features on the Futuredarts are minimal. The classic five pocket design provides nice and deep front pockets and excellent back pockets that are wide and spacious. No buttons or zips, just open pockets, which most of the time is a more convenient design, although it makes the pockets less secure in action scenarios and in crowds where you worry about pickpockets. The interior of the pockets are elastic, but more importantly it is a thin fabric that does not bunch up annoyingly.
Every truly modern pair of pants should feature a pocket that fits your phone, holds it firmly and keeps it accessible. The Futuredarts, unfortunately, do not. The front pockets are big enough that your phone will bounce about in them. The fifth pocket is the right size for a phone, placed inside the right front pocket. Unfortunately, its placement is such that you cannot keep your phone there as it will jut into your hip when you sit down. You can keep a few loose coins and bills there, but it is not a tight pocket, so if you drape the pants over a chair the contents will fall out.
Real life use
The stretch, breathability, articulation and water resistance on these pants make them highly versatile and comfortable. These are office ready pants that pass for business casual, while at the same time being pants I can literally do yoga in. They are not particularly warm, so not my first choice to wear outside in winter time, but an excellent choice for indoors wear and moderate temperatures.
The Deep Gray color I chose is aptly named, not too cool, not too warm but indeed a deep shade of gray. There are also warmer options like Tobacco and Sandstorm. In general, these pants go with pretty much anything, from a t-shirt to a nice button-up, from a black cotton hoodie to a cashmere sweater. That is real versatility.
The Futuredarts are $148, sold at www.outliernyc.com. Is it better value than, say, the Ezy Ankle Pants from Uniqlo that comes in at $40? That is debatable, but I consider it a very fair price for high-quality synthetic pants that I certainly prefer wearing over those cheaper pants.
Form: 7/10
Nice taper. Looks good in the office as well as in casual settings. Concessions for improved freedom of movement make the look a bit loose above the knee. Questionable sizing.
Function: 8/10
Simple and highly wearable, with some water repellency, stretch and breathability. Brilliant for sitting down or moving about. Lack a functional phone pocket.